John Deere D160
John Deere D160 for sale at LandPro Equipment; NY, OH & PA. Serving your new and used equipment needs from Alexander, Avon, Brockport, Clymer, Falconer, Hall, Macedon, Niagara Falls, Oakfield, Savannah, Springville, NY, and East Palestine, OH, and Centre Hall, Edinboro, Fairmount City, Halifax, Harrisburg, Mifflintown, Stoneboro, and Watsontown, PA.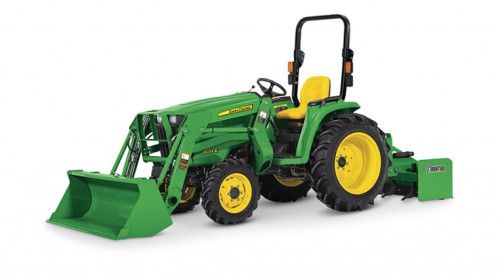 End-of-pin lubrication - Easy maintenance
All pivot points on the loader have grease fittings that are accessible from the side of the loader to make greasing the loader much easier, ensuring that all grease points are more likely to be serviced. No more searching for grease points that are hard to find. Removing the grease gun from the grease fitting is not a problem as sufficient radius has been left to allow the grease gun tip to be rotated to the side for removal from the fitting.
Parking stand kit
Parking stands

Handled pins

Hydraulic hoses

Quick-couplers

Mounting bracket and hardware
Hood guard
A hood guard can be ordered for a tractor without ordering a loader.
The hood guard protects the front of the tractor while operating the loader. 
The bolt-on design stays with tractor when loader is removed.
61-in. (1550-mm) materials bucket
Materials buckets are available to match tractor and loader applications. 
May be used for loading dirt, gravel, feed, and light materials as well as scraping, digging, and other general purpose tasks.
Cylinder pins
The cylinder pins are made with a unique offset head design to eliminate cross-pins and cotter pins to retain the pin. Instead the pin is held in place with a nut, which is very simple to install because it eliminates any alignment issues. The offset head of the pin prevents rotation of the pin and reduces pin wear. 
Loader boom
The upper boom section runs straight across the tractor hood for excellent operator visibility. The lower boom section is tapered and kept close to the front of the tractor for improved maneuverability. Maximum durability is provided when the two boom halves are welded together because the upper and lower boom sections are connected with knee plates that provide additional strength.
Torque tube connection on boom arms provides strength and rigidity

Hydraulic lines and hoses are mounted on the inside of the boom for protection from possible damage
Loader cylinders
Boom and bucket cylinders are designed to match tractor hydraulics, resulting in productive cycle times.
Cylinder rod features a nitride (black) rod that results in improved corrosion resistance versus a standard chromed cylinder rod.
Loader mounting frame
A casting is used to manufacture the mast versus a welded steel structure because this enables the unique shape to provide improve visibility forward along the tractor.
It also allows the metal to be placed in the areas where it is needed to provide strength and durability.
The mounting frames are designed in conjunction with the tractor and bolt to the tractor chassis to ensure the loads encountered during loader work are designed into the tractor chassis.
Quik-Change attachment carrier
Allows fast, easy removal and mounting of attachments without tools. 
Integrated tractor/loader hydraulics
The loader control (joystick) is integrated on the loader mounting frame, and ergonomically placed for easy operation by from the tractor seat for hours of maintained productivity. 
Loader control can be locked out to prevent accidental movement of the loader when not in use. The tractor system relief provides protection to the hydraulic system.
Hydraulic hose and fittings
The compact loaders use the same wire braid, high-pressure hydraulic hose found on larger loaders. This provides added reliability and longer life. 
The fittings used to connect the hoses to the hydraulic cylinders and hydraulic lines utilize O-ring face seal fittings to virtually eliminate oil leaks. No other competitors provide this quality of fitting and, as a result, competitors have many more oil leak issues than John Deere compact loaders.
Fits the following models: 3025E, 3032E and 3038E 
Leveling configuration

---

Bucket used

Materials

Bucket weight, lb (kg)

93 kg

205 lb

Lift capacity at full height, lb (kg)

---

Measured at pivot (U)

1186 lb

539 kg

Measured at 500 mm ahead of pivot (V)

845 lb

384 kg

Measured at 800 mm ahead of pivot (V)

---

Lift capacity at 59 in. (1500 mm), lb (kg)

---

Measured at pivot (W)

1294 lb

588 kg

Measured at 500 mm ahead of pivot (X)

977 lb

444 kg

Measured at 800 mm ahead of pivot (X)

---

Boom breakout force, lbf (kgf)

---

Measured at pivot (Y)

1704 lbf

760 kgf

Measured at 500 mm ahead of pivot (Z)

1204 lbf

537 kgf

Measured at 800 mm ahead of pivot (Z)

---

Bucket rollback force capacity, lbf (kgf)

---

At maximum height (VV)

1433 lbf

639 kgf

At 59-in. (1500-mm) lift height (XX)

1814 lbf

809 kgf

At ground-level line (ZZ)

1422 lbf

634 kgf

Dimensions

---

Maximum lift height, in. (mm) (A)

84 in.

2140 mm

Clearance

---

At full height - bucket level, in. (mm) (B)

78 in.

1979 mm

At full height - bucket dumped, in. (mm) (C)

63 in.

1596 mm

Overall length (I+F), ft (m)

9.5 ft

2.9 m

Overall height in carry position, ft (m) (J)

5 ft

0.15 m

Digging depth, in. (mm) (H)

5 in.

131 mm

Reach

---

At maximum height, in. (mm) (D)

24 in.

603 mm

At ground level - bucket level, in. (mm) (F)

54 in.

1369 mm

Bucket angle

---

Dump angle, degrees (E)

43.8 degree (angle)

Rollback angle, degrees (G)

31.4 degree (angle)

Dump angle, ground

122 degree (angle)

Cycle times

---

Loader raise, seconds

3.31 seconds

Loader lower, seconds

2.75 seconds

Bucket dump, seconds

1.75 seconds

Bucket rollback, seconds

1.88 seconds

Date collected

---
Fields with asterisks* and highlighted red are required. Please email our helpful staff with any questions or comments using the contact form.
Fields with asterisks* and highlighted red are required. Your friend will receive an email that contains a reference to this page. Please send this email only to people you know who would be interested in this information.