John Deere X739 Signature Series Tractor
John Deere X739 Signature Series Tractor for sale at LandPro Equipment; NY, OH & PA. Serving your new and used equipment needs from Alexander, Avon, Brockport, Clymer, Falconer, Hall, Macedon, Niagara Falls, Oakfield, Savannah, Springville, NY, and East Palestine, OH, and Centre Hall, Edinboro, Fairmount City, Halifax, Harrisburg, Mifflintown, Stoneboro, and Watsontown, PA.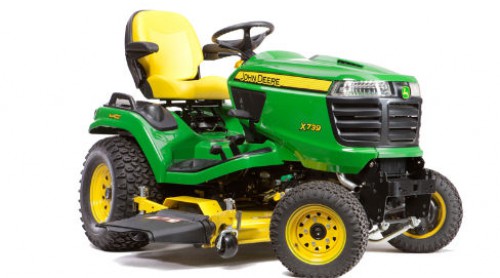 4 Wheel Steering Tractors
Full-time four-wheel drive and four-wheel steering
Electronic fuel injection for quick sure starts
Heavy-duty welded frame
4-year/700-hour bumper-to-bumper warranty
Manufacturer
John Deere
Model
X739 (2017)
Engine
 
Power
 25.5 hp 
 19 kW 
Displacement
 45.5 cu in. 
 745 cc 
Manufacturer/model
 FD750D EFI  
Type
 Electronic fuel injection (EFI), overhead valve, full-pressure lube, oil filter  
Cylinders
 V-twin, cast-iron liners  
Governor
 Mechanical  
Choke/speed control
 No choke required  
Cooling method
 Liquid  
Air cleaner
 Dry, replaceable with foam precleaner  
Oil drain
 No tools  
Fuel system
 
Type
 Gasoline  
Fuel delivery
 Electronic fuel injection  
Fuel gauge
 Gauge on dash  
Fuel tank location
 Rear  
Fuel fill opening
 On left fender, 3 in. 
 7.6 cm 
Fuel tank capacity
 5.2 U.S. gal. 
 19.7 L 
Electrical system
 
Battery
 12 V 
 300 CCA 
Charging system
 Flywheel alternator, regulated, 20 amp 
Engine starter
 Solenoid shift  
Hourmeter
 Yes  
Headlights
 Two standard, halogen, 37 W 
Taillights or reflector
 Taillights  
Backup lights
 Yes  
Rear work lights
 Yes  
12-V outlet
 Yes  
Transaxle
 
Type
 K90 hydrostatic integrated with transaxle  
Control
 Twin Touch™ pedals  
Cruise control
 Yes  
Oil cooler
 Yes  
Oil filter
 Replaceable suction side 10 micron  
Differential lock
 Standard  
Forward speed
 0-8.5 mph 
 0-13.7 km/h 
Reverse speed
 0-6 mph 
 0-9.7 km/h 
Brakes
 Internal wet disc  
Chassis
 
Frame
 Welded heavy-duty  
Primer/paint
 E-coat/powder  
Weight bracket
 Standard front - holds up to four Quik-Tatch weights, 42 lb 
 19 kg 
Receiver hitch
 Yes, front  
Front axle
 JDM BA8 nodular iron casting  
Spindle bushings
 ---  
Front tires
 18x8.5-10 HDAP  
Rear tires
 26x12-12 HDAP  
Hood material
 Noryl GTX902, painted  
Fender deck material
 RIM with in-mold paint  
Floor mats
 Sure-grip rubber  
Storage
 Covered toolbox  
Service interval decal
 Yes  
Fender handles/grips
 Handles  
Cup holder
 Yes  
Equipment mounting
 Optional category 1 3-point hitch  
Steering
 
Type
 Hydraulic power  
All-wheel steer
 Yes  
Steering wheel
 14 in. 
 35.6 cm 
Tilt steering wheel
 Standard, six position  
Turning radius
 21 in. 
 53.3 cm 
Uncut circle radius
 54 HC, 10 in. 
 25.4 cm 
 60 HC, 6 in. 
 15.2 cm 
Seat
 
Type
 Two piece professional high back  
Seat back height
 21 in. 
 53.3 cm 
Armrests
 Optional  
Fore-aft adjustment
 While seated, slide rail, 14-position, 7 in. 
 17.8 cm 
Seat suspension
 Six-position parallel arm  
Lift system
 
Type
 Two-function hydraulic  
Hydraulic outlets
 Four, standard  
Mower cut height
 1-5.25 in. 
 2.5-13.3 cm 
Cut height increments
 0.25 in. 
 0.64 cm 
Preset cut height
 Yes  
Mower deck
 
Type
 Side discharge  
Cutting width
 48, 54, 60 in. 
 122, 137, 152 cm 
Construction
 Stamped steel deck shell  
Mower deck material
 48A, 10 gauge 
 0.135 in. 
 3.4 mm 
 54 HC and 60 HC, 9 gauge 
 0.150 in. 
 3.8 mm 
Mower wash port
 Yes  
Mower drive system
 Hydraulic clutch, shaft  
Mower wheels
 Four  
Mower wheel adjustment
 Spring-loaded pin  
Mower level adjustment
 Exact Adjust ports and onboard deck-leveling gauge  
Mower attachability
 
Type
 Roll under tractor (48A)  
 Drive-over deck (54, 60 HC)  
Front draft arms
 Overcenter  
Rear draft arms
 V-align  
Mower wheels rotate
 Yes, 90 degrees for easy mower removal (48A), N/A (54 HC, 60 HC)  
Drive system
 Shaft or AutoConnect  
Safety
 
Meets ANSI standard
 Yes  
Meets OPEI standard
 Yes  
Backup protection
 Reverse Implement Option (RIO)  
Safety video
 Yes  
Buyer's notes
 
Notes
 Hydraulic modulated PTO clutch for smooth mower and implement engagement  
 One-piece hood for easy engine access  
 540 rpm rear PTO and 3-point hitch options available  
Warranty
 4 year/700 hour bumper-to-bumper** (**Term limited to years or hours used, whichever comes first, and varies by model. See the LIMITED WARRANTY FOR NEW JOHN DEERE TURF AND UTILITY EQUIPMENT at JohnDeere.com or JohnDeere.ca/TUWarranty for details.)  
Optional equipment
 
Mowers
 48A, 54 HC, 60 HC  
Rear bagger
 7, 14, 19, 42 bu 
 250, 500, 670, 1480 L 
Powered material collection
 Power Flow, 7, 14, 19, 42 bu 
 250, 500, 670, 1480 L 
Mulching system
 Yes, MulchControl™  
Front thatcher
 38, 46, 54 in. 
 96.5, 116.8, 137.2 cm 
Front blade
 54 in. 
 137.2 cm 
Mid-mount blade
 ---  
Snow blower
 Two-stage, 47, 54 in. 
 119.4, 137.2 cm 
Rotary broom
 52, 60 in. 
 132.1, 152.4 cm 
Rotary tiller
 42, 48 in. 
 106.7, 121.9 cm 
Sleeve hitch
 ---  
3-point hitch
 Category 1  
Rear power take-off (PTO)
 540 rpm 
Plow, moldboard
 Adjustable, 8-14 in. 
 20.3-35.6 cm 
Box scraper
 48 in. 
 121.9 cm 
Cultivator
 Adjustable, 30-46 in. 
 76.2-116.8 cm 
Rear blade
 60 in. 
 152.4 cm 
Disk harrow
 Adjustable, 42-52 in. 
 106.7-132.1 cm 
Landscape rake
 60 in. 
 152.4 cm 
Sprayer
 Tow-behind, 15, 25, 45 U.S. gal. 
 56.8, 94.6, 170.3 L 
 Mounted, 25 U.S. gal. 
 94.6 L 
Spreader
 Tow-behind, 125, 175 lb 
 57.7, 79.4 kg 
 Mounted, 125 lb 
 57.7 kg 
Front bumper
 Standard bumper/weight bracket  
Brush guard
 Yes  
Weather protection
 Hard-side cab, weather enclosure  
Sun canopy
 ---  
Rear receiver hitch
 1.25x1.25 in. 
 3.18x3.18 cm 
Bucket holder
 Yes, double bucket  
Grass striping
 Grass groomer kit, 48-in. (122-cm) mower only  
Tractor shovel
 54 in. 
 137.2 cm 
Front loader
 Not available  
Other equipment
 ---  
Tow-behind tools
 21  
Dimensions
 
Height
 51.2 in. 
 130 cm 
Overall length
 75 in. 
 190.5 cm 
Wheelbase
 55.7 in. 
 141.5 cm 
Width with mower
 48A, 62.5 in. 
 159 cm 
 54 HC, 64.5 in. 
 163.8 cm 
 60 HC, 74 in.
 188 cm 
Width with mower (deflector raised for storage)
 48A, 53.6 in. 
 136 cm 
 54 HC, 57.5 in. 
 146.1 cm 
 60 HC, 62 in. 
 157.5 cm 
Width without mower
 48 in. 
 121.9 cm 
Weight
 No fuel or mower, 1,045 lb 
 474 kg 
Additional information
 
Date collected
   
Fields with asterisks* and highlighted red are required. Please email our helpful staff with any questions or comments using the contact form.
Fields with asterisks* and highlighted red are required. Your friend will receive an email that contains a reference to this page. Please send this email only to people you know who would be interested in this information.