John Deere 944K Hybrid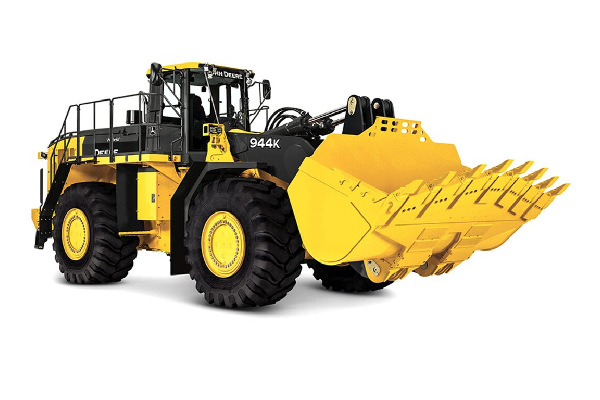 Double tap to zoom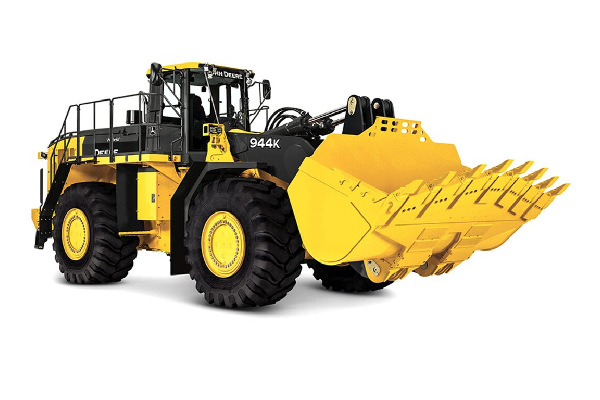 Features
Engine
PowerTech™ EPA Final Tier 4 (FT4)/EU Stage IV engine coupled with a hybrid-electric drive can provide significant fuel savings over 9-cu.-yd. loaders with conventional drivetrains.
The FT4 update reduces fuel consumption by 9 to 14 percent over EPA Interim Tier 4 (IT4)/EU Stage IIIB models.
Productivity
Flow-sharing hydraulic system boasts the fastest cycle times and the quickest boom-raise time in the 944K's size class, speeding short-pattern truck loading. Each boom and bucket function has its own hydraulic pump for quick, smooth operation, and faster truck loading.
Front fender has been cut back to enable greater visibility to the front tire, so the operator can see when slippage occurs. Fender extensions are available.
Engine runs at a choice of three constant operator-selected rpms, so boom and bucket functions are powerful, responsive, and quick, while optimum fuel efficiency is maintained. Reduces overall machine noise and operator fatigue.
Hybrid-Electric Drive
Hybrid-electric drive smoothly and efficiently recaptures energy to slow the loader when the operator lets off the accelerator. This lessens the load on the engine and reduces fuel consumption.
Generators, brake resistors, wheel motors, and inverters are warranted for 8 years or 20,000 hours, whichever occurs first.*
Quad-Cool™
Quad-Cool design places coolers in a boxed configuration that's isolated from engine heat, for increased efficiency and durability.
Transmission
Coast-control feature functions like dynamic braking in a hydrostatic transmission, slowing the loader without touching a pedal and helping reduce service-brake component wear.
Controls
Joystick steering adapts to ground speed to deliver smooth, low-effort control, for fatigue-beating comfort. F-N-R switch with up- and downshift buttons ensures fast, smooth shifting and directional changes. Having no steering wheel maximizes visibility to the front.
Cab Comfort
At 10-in. wider than the next smaller Deere loader, this quieter, more spacious cab is the largest in its class. Cooler compartment and beverage holder ensure plenty of room to stow your stuff. Floor-to-ceiling front glass provides a commanding view to the bucket and tires.
At only 107 dBA, noise is much less noticeable to bystanders than with other loaders, making this loader a good neighbor. For the operator, cab noise is only 71 dBA.
Serviceability & Uptime
All daily service points including fueling are grouped for quick and convenient ground-level access.
The 944K is available with four bucket options, a 6.88-m³ (9.0 cu. yd) spade-nose rock bucket, 6.5-m³ (8.5 cu. yd) heavy-duty granite spade-nose rock bucket, a 7.65-m³ (10 cu. yd.) general-purpose pin-on bucket or a less bucket option.
Four standard tie-off points are located on top of the cab above each ROPS post that meet MSHA and OSHA requirements. The operator or technician can simply remove the bolt and install their safety device while performing service on the 944K.
Specifications
DRIVELINE
| | |
| --- | --- |
| Engine Manufacturer | John Deere |
| Engine Model | PowerTech PSS 6135 |
| Emission Rating | Tier 4 |
| Displacement, ltr (Inches³) | 13.5 (824) |
| Rated Speed, rpm | 1600 |
| Engine Output - Net, kW (hp) | 400 (536) |
| Torque, Nm (lbf / ft) | 2530 (1866) |
| Torque Rise, % | 23 |
| Transmission Type | A/C Electric |
| Front Differential Type | Open |
| Rear Differential Type | Open |
| Tire size - Standard | 35 / 65 R33 |
| Service Brake - Type | Wet Multi Disc |
| Service Brake - Location | All Wheels |
| Service Brake - Actuation | Hydraulic |
| Parking Brake - Type | Wet Multi Disc - Transmission |
DIMENSIONS
| | |
| --- | --- |
| Height - Over Cab, mm (ft/in) | 4200 (13 ft 9 in) |
| Wheelbase, mm (ft/in) | 4500 (14 ft 9 in) |
| Length - Including Bucket, mm (ft/in) | 11690 (38 ft 4 in) |
| Ground clearance, mm (inches) | 582 (22.9) |
| Width Over tires - Std, mm (ft/in) | 3729 (12 ft 2 in) |
| Height - Pivot Pin, mm (ft/in) | 5350 (17 ft 6 in) |
| Reach - At 2130mm 45° Dump, mm (ft/in) | 2870 (9 ft 5 in) |
| Turning Circle - Maximum, mm (ft/in) | 18080 (59 ft 3 in) |
CAPACITIES
| | |
| --- | --- |
| Fuel Tank, ltr (gallons (US)) | 746 (197) |
| Hydraulic Tank, ltr (gallons (US)) | 378 (100) |
| Axle - Front, ltr (gallons (US)) | 106 (28) - 2x Motor |
| Axle - Rear, ltr (gallons (US)) | 106 (28) - 2x Motor |
| Transmission, ltr (gallons (US)) | 34 (9) - Generator |
| Heaped Capacity, m³ (yd³) | 7.65 (10) |
| Bucket Capacity - Smallest, m³ (yd³) | 6.5 (8.5) |
| Largest bucket capacity, m³ (yd³) | 7.65 (10) |
| Breakout - Bucket , kgf (lbf) | 47568 (104869) |
| Ride Control System | Optional |
| System Voltage, V | 24 |
| Alternator Output, Amp | 150 |
| Pump Type | Piston |
| Pump Flow - 1, lt/min (gallons (US) / min) | 379 (100) |
| System Pressure, bar (PSI) | 350 (5000) |
WEIGHTS
| | |
| --- | --- |
| Operating Weight, kg (lbs) | 54253 (119607) |