John Deere 12-Inch Steel Track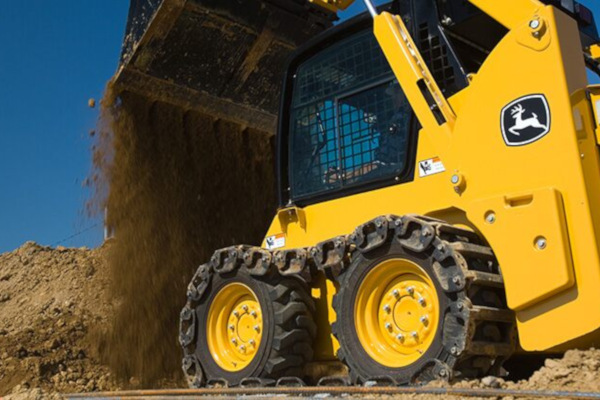 Double tap to zoom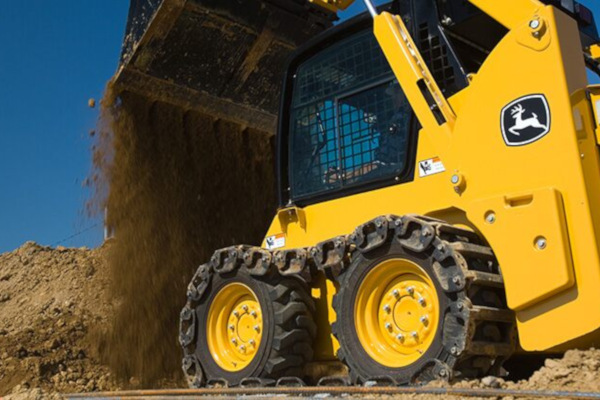 Features
Worksite Pro™ steel tracks enable John Deere skid steers to operate in soft, muddy, loose conditions, while also improving traction over hard ground and gravel.
Design reduces ground pressure, while adding counter balance weight.
Tracks protect tires from damage inflicted by harsh terrain and help prolong tread life.
31.7 mm (1.25 in.) heavy-duty bushings and drilled (not cored) holes increase strength.
Sloped link casting helps eject material that could interfere with movement.
Open outer side plates make tracks easy to clean and adjust.
Specifications
| | |
| --- | --- |
| MODEL | 12-in. Heavy-Duty (HD) Tires |
| Track |   |
| Pitch | 254 mm (10 in.) |
| Weight | 418 kg (920 lb.) |
| Total Number of Pads | 40 |
| Weight per Pad | 10.4 kg (23 lb.) |
| Pin |   |
| Diameter | 31.7 mm (1.25 in.) |
| Wear Length Wear Surface Area | 19 mm (0.75 in.) 30 mm3 (1.17 sq. in.) |
| Heat-Treated | Yes, 55-60 RC |
| Installation | Bolted |
| Field Replaceable | Yes |
| Link Thickness | 19 mm (0.75 in.) |
| Crossbar |   |
| Dimension (two bars) | 25 x 32 mm (1 x 1.25 in.) |
| Height Wear Area (per pad) | 33 mm (1.3 in.) 647 mm3 (25.5 sq. in.) |
| Heat-Treated | Yes |
| Traction Bead Tire Guide Area (per pad) | 2 per pad 1523 mm3 (60 sq. in.) |
| Binder Provided | Yes |
| Length Adjustment | Yes |
| Flotation Area |   |
| Of Tires With Tracks | 3251.6 cm3 (504 sq. in.) 7109.6 cm3 (1,102 sq. in.) |
| Vehicle Compatibility | 324E and 330G Skid Steers |