John Deere NF44 Nursery Fork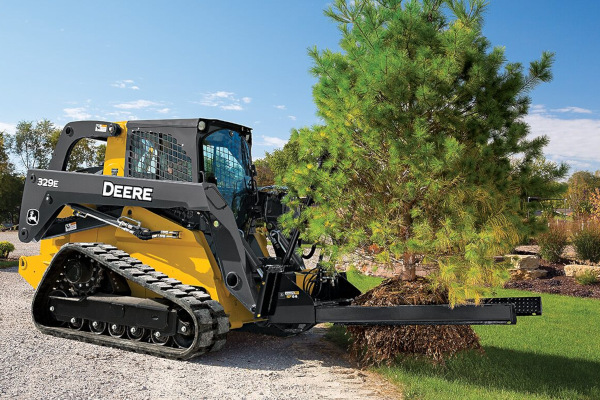 Double tap to zoom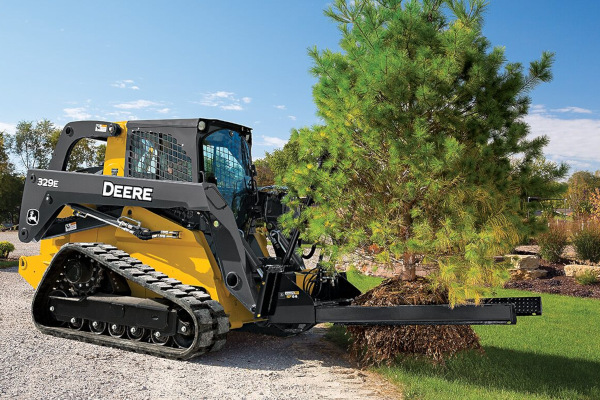 Features
Easily and effortlessly transport balled and burlapped trees or container stock up to 44 in. (1118 mm) in diameter as well as large rocks and light boulders.
Third-function hydraulic-actuated arm that swings open and closed works in conjunction with stationary arm to pick up a variety of objects.
6 in. (152 mm) tread plate allows the arms to firmly grasp root balls, nursery pots, container boxes, or landscape rocks.
versatile Quik-Tatch system enables hook-up and release in only seconds.
Clean, simple tine design provides virtually unrestricted visibility forward and to the sides.
Specifications
Model
NF44
Width
1194 mm (47 in.)
Height
1549 mm (61 in.)
Length
2184 mm (86 in.)
Fork Opening
 
Minimum
102 mm (4 in.)
Maximum
1372 mm (54 in.)
Parallel
457 mm (18 in.)
MaximuMaximum Root Ball
1118 mm (44 in.)
Connection
 
Hydraulic
12.7-mm (0.5 in.) quick-connec
Electrical
None
Vehicle Compatibility
316GR, 318G, 320G, 324G, 330G, and 332G SSLs;*
317G, 325G, 331G, and 333G CTLs;* and 204L, 244L,
304L, and 324L CWLs*†
*Ride control recommended.
†Skid steer-style coupler required.
Pressure-Control Kit AT460780 available as a dealer-installed option reduces the risk of damage to
the tree ball or container by limiting hydraulic-cylinder pressure. If caution is used when clamping
objects, this kit is not required.