John Deere Heavy Duty Pallet Fork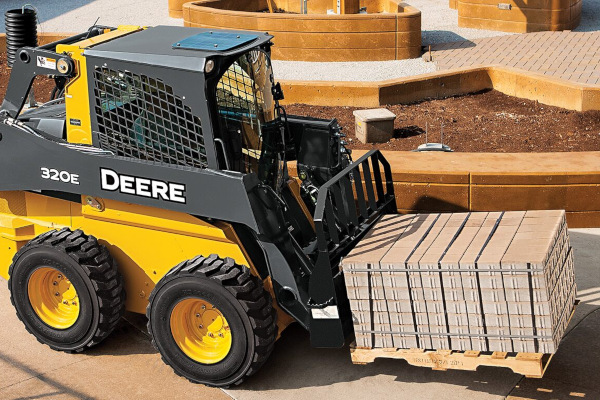 Double tap to zoom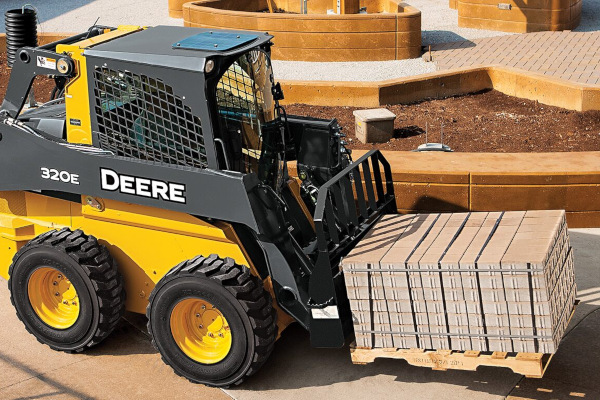 Features
Quik-Tatch system allows easy hook-up in seconds.
Pallet forks are available in lengths of 42 in. and 48 in. (1067 and 1219 mm) for standard duty, 48 in (1219 mm) for heavy duty, and 48 and 60 in. (1219 and 1524 mm) for severe duty.
Skid-resistant steps on both sides of the pallet-fork frame ease vehicle entrance and exit.
Standard-, heavy-, and severe-duty styles hold forks in a rigid position.
Single-piece backrest is available on the standard - and heavy-duty options. Severe-duty skid steer loader option has a walk-through backrest with a bolt-on option.
Standard-duty forks can be positioned in widths from 8-40 in. (203-1016 mm) in 4 in. (102 mm) increments, heavy-duty models in widths from 8-60 in. (203-1524 mm) in 4 in. (102 mm) increments, and severe-duty units in widths to 45 in. (1143 mm) in 5 in. (127 mm) increments or to 60 in. (1524 mm) in 5.35 in. (136 mm) increments.
Severe-duty pallet forks offer improved visibility, increased capacity, and better durability than the previous fork-frame design.
Specifications
Model
HEAVY DUTY
Frame Width
 
With Steps
1723 mm (67.8 in.)
Less Steps
1524 mm (60.0 in.)
Frame Height
977 mm (38.5 in.)
Overall Length (frame and fork)
 
1067 mm (42 in.)
N/A
1220 mm (48 in.)
1460 mm (57.5 in.)
1520 mm (60 in.)
N/A
Overall Weight (with 2 fork tines)
 
1067 mm (42 in.)
N/A
1220 mm (48 in.)
273 kg (602 in.)
1520 mm (60 in.)
N/A
Fork Thickness
45 mm (1.78 in.)
Fork Tine Load Rating at 600-mm
(24 in.) Load Center (1 pair of tines)*
2800 kg (6,160 lb.)
Vehicle Compatibility
330G and 332G Skid
Steers; 317G, 323E,
331G, and 333G CTLs
*Pallet fork capacity listed. Reference machine Operator's Manual for machine capacity.