John Deere SS30 High-Torque Stump Shredder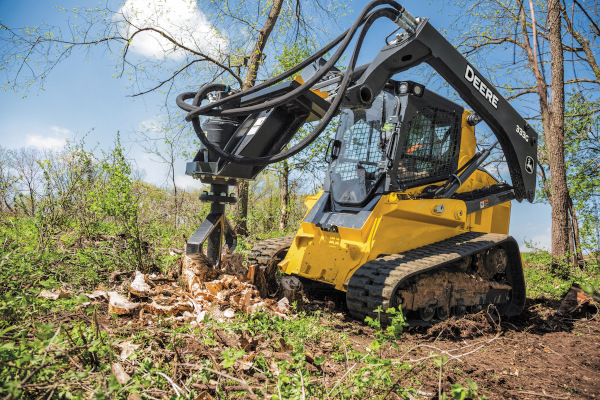 Double tap to zoom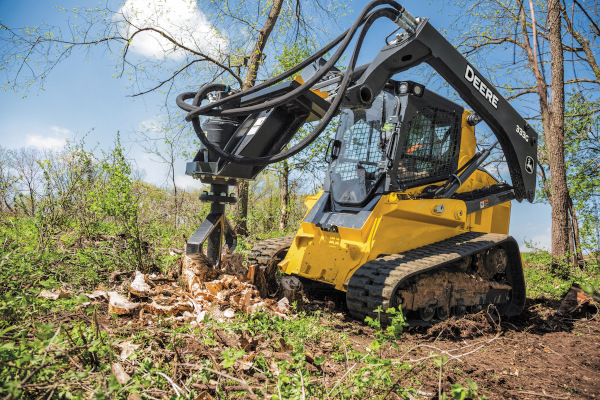 Features
Remove stumps from 203 to 711 mm (8 to 28 in.) in diameter in a single pass. Easily remove larger stumps with multiple bores.
Hardened pilot cone draws auger into the stump while 19-mm (0.75 in.)-thick AR500 steel blades efficiently make the cut.
Low-speed, high-torque auger planetary drive shreds material more safely and without the dangerous flying debris of conventional stump grinders.
Bore 508 mm (20 in.) into the ground to remove feeder roots.
Even with slower operating speeds, stump removal is faster than with conventional stump grinders. Site cleanup is easy thanks to the small, contained chip pile.
No carbide tools to replace lowers operating costs, and maintenance required only every 1,000 stumps maximizes uptime.
Like all Worksite Pro™ attachments, this stump shredder is optimized to work with John Deere skid steers and compact track loaders (CTLs). It's also compatible with most competitive models. See your local Deere dealer for details.
Specifications
Model
SS30
Weight
590 kg (1,300 lb.)
Length
1670 mm (66 in.)
Width
1160 mm (46 in.)
Height
770 mm (30 in.)
Hydraulic Flow
 
Minimum
76 L/min. (20 gpm)
Maximum
170 L/min. (45 gpm)
Maximum Operating Pressure
28 000 kPa (4,000 psi)
Maximum Output Torque
40 670 Nm (30,000 lb.-ft.)
Output Speed
 
76 L/min. (20 gpm)
7.0 rpm
95 L/min. (25 gpm)
9.0 rpm
114 L/min. (30 gpm)
11.0 rpm
132 L/min. (35 gpm)
13.0 rpm
151 L/min. (40 gpm)
14.5 rpm
170 L/min. (45 gpm)
16.5 rpm
Maximum Auger Bit Diameter
760 mm (30 in.)
Overall Auger Bit Length
800 mm (32 in.)
Connection
 
Hydraulic
12.7-mm (0.5 in.) quick-connect couplers with
9.525-mm (0.375 in.) case-drain coupler
Electrical
None
Vehicle Compatibility
320G, 324G, 330G, and 332G Skid Steers; 325G, 331G
and 333G CTLs