John Deere RC72B Rotary Cutter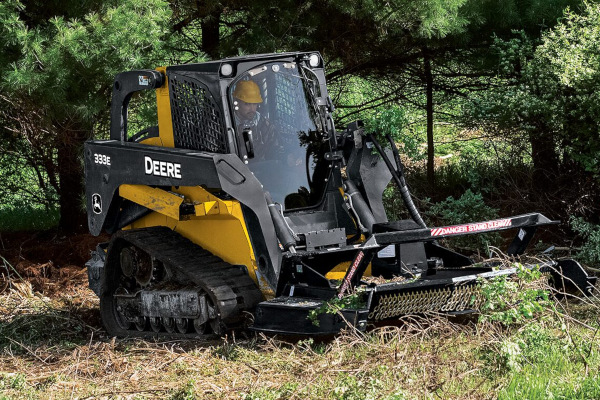 Double tap to zoom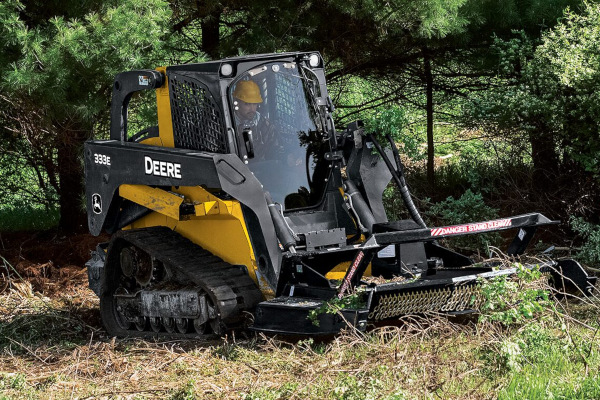 Features
Redesigned direct drivetrain eliminates the gearbox, for improved performance, durability, and reliability.
Triple bidirectional blade design of 19.1-mm (0.75)-thick high-grade steel helps stabilize balance, for smooth operation and increased cutting efficiency.
Optional new pressure gauge is highly visible, allowing easy monitoring of blade capacities to prevent overheating and overloading.
Optional new under-mounted front steel wheels provide even cuts, extend blade wear life by keeping it off the ground, and prevent scalping.
Specifications
Model
RC72B
Overall height
610 mm (24 in.)
Overall length
2235 mm (88 in.)
Overall width
1930 mm (76 in.)
Weight
581 kg (1,280 lb)
Minimum cutting height
51 mm (2 in.)
Cutting width
1829 mm (72 in.)
Cutting capacity
102 mm (4 in.)
Recommended output
57-95 L/m (15-25 pgm)
Flow
Standard
Required skid steer lift capacity
635 kg (1,400 lb.)
Vehicle compatibility
315, 318D/E, 320E/E, 326D/E,
328D/E, and 332D/E Skid Steers;
319D/E, 323D/E, 329D/E, and
333D/E CTLs
Required parts *
Sever-duty door (includes windshield wiper); severe-duty door hardware kit (for use with ROPS canopy units only-
not required for cab units)
Optional kits
 
Pressure gauge
 
Front Wheels:
 
Weight
30 kg (66 lb.)
*Required to meet ISO 8084 Forestry Applications.