John Deere MH60D Mulching Head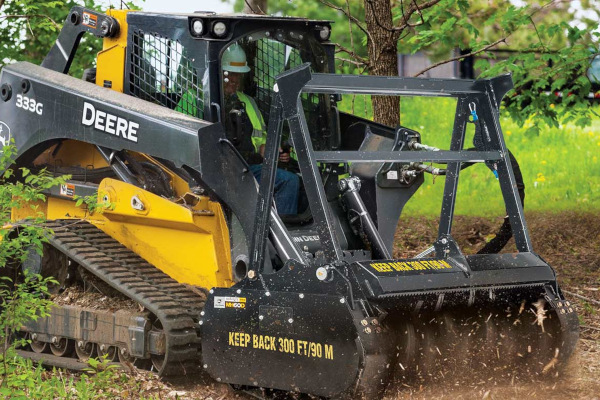 Double tap to zoom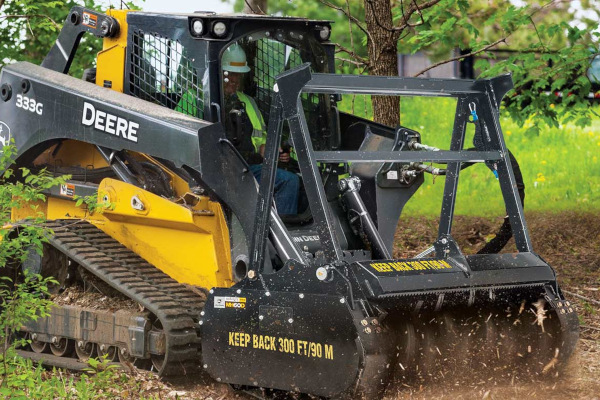 Features
Remove up to 8 in. trees and 12-in. stumps. Shred underbrush and woody materials into beneficial mulch in just minutes.
Severe-duty design utilizes oversize 2.5 in. sealed rotor bearings and double carbide-tipped teeth for long term durability. Heavy-duty push bar is useful for toppling tress or brush, and helps protect the carrier.
Two-speed hydraulic system utilizes available horsepower. When preset pressure level is attained, the motor automatically shifts to a higher displacement, increasing torque for reduced stalling and faster rotor speed recovery. Prominently positioned gauge lets an operator easily monitor hydraulic operating pressure for additional efficiency.
Hydraulic brake stops the rotor in less than 10 seconds, eliminating the "freewheeling" common with other designs.
Optional hydraulic cooler is available for operation in high-ambient temperature conditions
With a 60-in. opening and 30 teeth, high-capacity rotor takes big bites out of trees and stumps. Rotor is balanced to deliver superior large-material knockdown and shredding performance. Also works well below soil level for chewing out stumps.
Smooth rotor reduces material drag and horsepower requirements. Internal counter-combs help shatter incoming material, creating a finer mulch.
Optional hydraulically operated mulching plate retains material within the shroud of maximum material shredding.
Specifications
Model
MH60D Mulching Head
Overall Width
1880 mm (74 in.)
Cutting Width
1520 mm (60 in.)
Height
1430 mm  (56 in.)
Length
1390 mm (55 in.)
Weight
1240 kg (2,730 lb.)
Cutting Tool Type
 
Standard
30 double-carbide tipped
Optiona
Knife
Motor Type
2-speed axial piston
Flow Range
91–170 L/min. (24–45 gpm)
Maximum Operating Pressure
28 000 kPa (4,000 psi)
Connection
 
Hydraulic
12.7-mm (0.5 in.) quick-connect couplers with
9.525-mm (0.375 in.) case-drain coupler
Electrical
14 pin
Vehicle Compatibility

330G and 332G SSLs; 331G and 333G CTLs