John Deere BP72C Pick-Up Broom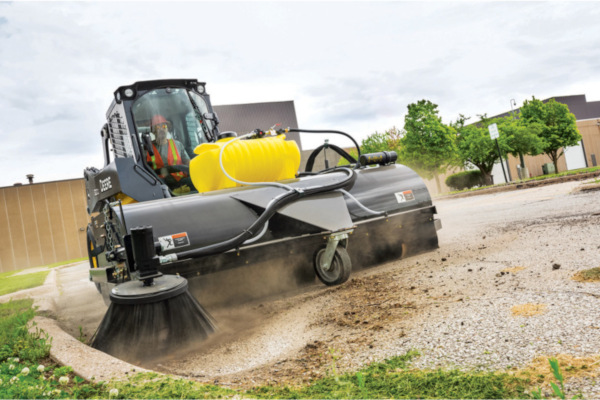 Double tap to zoom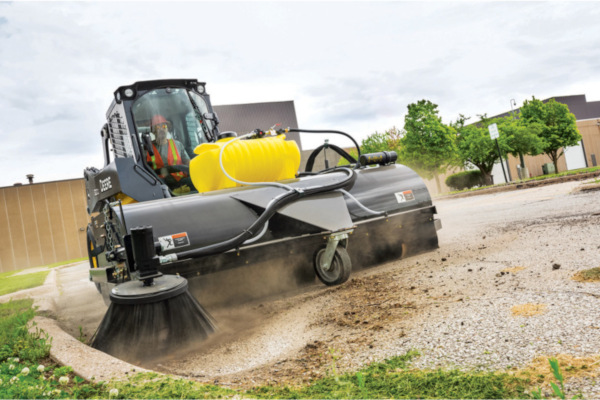 Features
Pick-up brooms feature a 635-mm (25 in.)-diameter brush with 50/50 poly wire brush segments and a baffle to hold debris in bucket.
Heavy-duty, high-torque drive motor is coupled to the brush core through a 25.4-mm (1 in.) splined shaft.
Bolt adjustment on brush provides infinite height control.
Two-standard caster wheels (not on fixed brooms) allow for better balance and stability when sweeping.
During bristle replacement, the drive motor can be pulled from the brush core without disconnecting any hydraulic lines. This means less mess and cleanup, with little chance of hydraulic fluid contamination.
Optional gutter brush has adjustable flow to allow for different material applications and the ability to turn off when not in use.
Like all Worksite Pro attachments, these pick-up brooms are optimized to work with John Deere G- and E-Series Skid Steers and Compact Track Loaders (CTLs), and K-Series Compact Loaders. They're also compatible with many competitive models.
Specifications
MODEL
BP72C
Weight
580 kg (1,275 lb.)
Overall Length
1830 mm (72 in.)
Overall Width
2310 mm (91 in.)
Sweeping Width
1830 mm (72 in.)
Overall Height
670 mm (27 in.)
Hopper Capacity
0.5 m3 (18 cu. ft.)
Brush Diameter
660 mm (26 in.)
Core Diameter
200 mm (8 in.)
Number of Wafers
41
Minimum Hydraulic Flow
57 l/min. (15 gpm)
Maximum Hydraulic Flow
95 l/min. (25 gpm)
Motor Pressure Relief Setting
17 000 kPa (2,500 psi)
Broom-Mounted Water Tank
 
Water-Tank Capacity
95 L (25 gal.)
Pump Flow
7.9 l/min (2.1 gpm)
Roof-Mounted Water Tank
 
Water-Tank Capacity
114 L (30 gal.
Pump Flow
6.8 l/min. (1.8 gpm)
Vehicle Compatibility
312GR, 314G, 316GR, 318G,
320G, 324G, 330G, and
332G SSLs; 317G, 325G,
331G, and 333G CTLs
*Requires skid steer-style quick coupler for operation.