John Deere BH9 Backhoe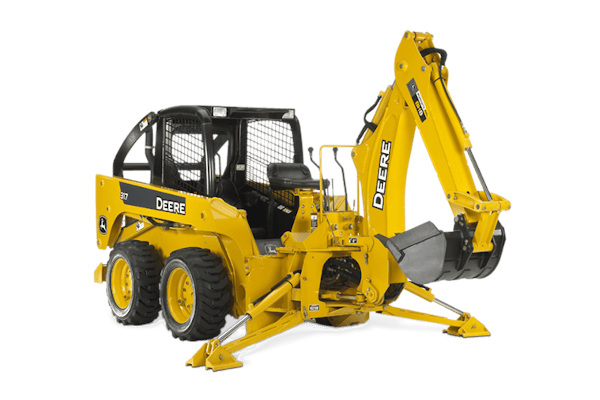 Double tap to zoom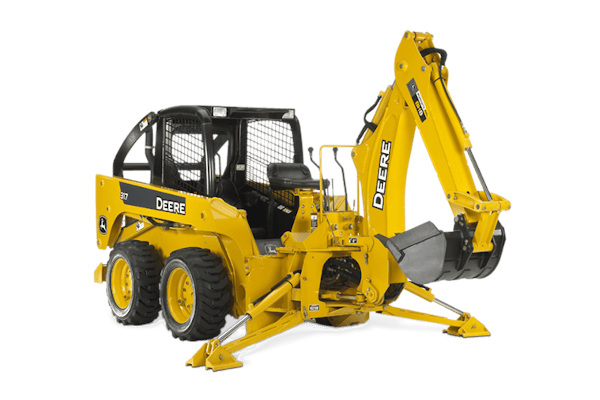 Features
John Deere backhoes are ideal for light-duty ag or utility work.
180-deg. swing range maximize maneuverability in confined areas. Low-profile console enhances visibility.
Cushioned cylinders smooth operation and limit shock loads. Two-lever boom/swing and dipperstick/bucket control allows precise attachment control.
Dual-lock arms quickly and easily latch to the machine mainframe. Handy boom- and swing-lock levers enable secure transport.
Heavy-duty buckets feature an easy cleanout design and a trio of linkage options that help increase curl, reach, and breakout force.
Standard tilt-away seat and convenient grab handle ease cab entry and exit. Height and fore-and-aft seat adjustment helps boost operator comfort.
Like all John Deere attachments, these backhoes are optimized to work with Deere SSLs and CTLs.
They're also compatible with many competitive models. See your local Deere dealer for details.
Specifications
Backhoe
BH9B
Weight (without mounting bracket/bucket)
465 kg (1,025 lb.)
Height
 
Transport
2550 mm (100 in.)
Loading
2355 mm (93 in.)
Operating, Fully Raised
3495 mm (138 in.)
Length
 
Overall Transport
2110 mm (83 in.)
Reach from Swing Pivot
3705 mm (146 in.)
Loading Reach
1500 mm (59 in.)
Digging Depth
 
Maximum
2795 mm (110 in.)
Digging (2 ft. Flat Bottom)
2745 mm (108 in.)
Digging (8 ft. Flat Bottom)
2235 mm (88 in.)
Straight Wall
N/A
Stabilizer Spread
 
Transport
1270 mm (50 in.)
Operating
2285 mm (90 in.)
Bucket Rotation
180 deg.
Swing Arc
180 deg.
Hydraulics
 
Minimum Hydraulic Flow
34 gpm (9 L/min.)
Maximum Hydraulic Flow
45 gpm (12 L/min.)
System Relief Pressure
19 000 kPa (2,750 psi)
Digging Force - Bucket Cylinder
1765 kg (3,895 lb.)
Digging Force - Dipperstick Cylinder
1070 kg (2,358 lb.)
Connection
 
Hydraulic
12.7-mm (0.5 in.)
Electrical
quick-connect couplers NONE
Heavy-Duty Pin-On Buckets
 
18-in. Bucket with Teeth
 
Heaped Capacity
0.06 m3 (2.14 cu. ft.)
Weight
45 kg (95 lb.)
Number of Teeth
4
24-in. Bucket with Teeth
 
Heaped Capacity
0.09 m3 (3.10 cu. ft.)
Weight
50 kg (115 lb.)
Number of Teeth
5
36-in. Bucket with Teeth
 
Heaped Capacity
0.09 m3 (3.04 cu. ft.)
Weight
65 kg (140 lb.)
Number of Teeth
7
Vehicle Compatibility*
312GR, 314G, 316GR, and
318G SSLs; 317G CTL
*Rear counterweight may improve stability during operation