John Deere CP18D Cold Planer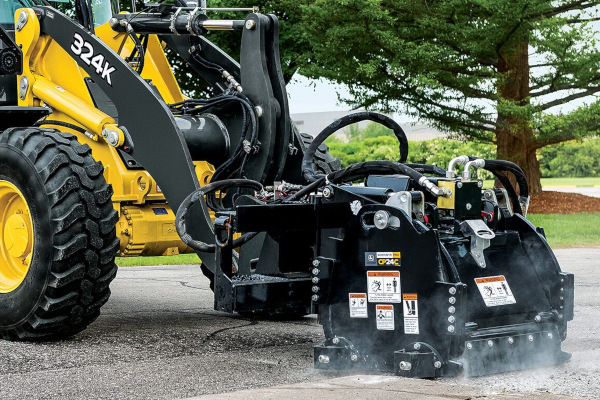 Double tap to zoom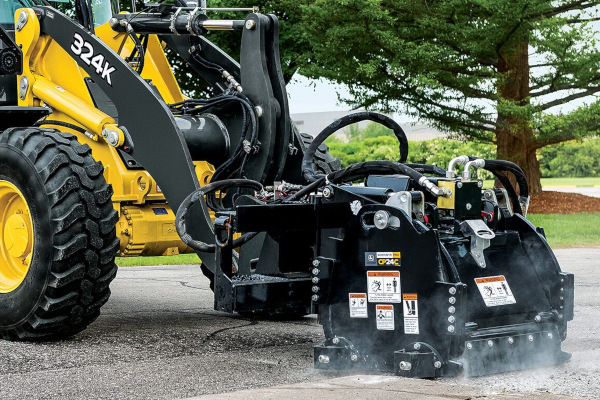 Features
Cold planers are ideal for street repairs, leveling uneven pavement, cutting drainage in parking lots, and cleaning around larger milling machines.
Standard-flow CP12D produces high torque and is equipped with manual side shift, tilt, and depth control, for maneuverable planer placement. High-flow CP18D, CP24D, and CP30D deliver increased production and fingertip electrical control of tilt, depth, and side shift, for precise planer positioning.
Exclusive angled spoil-guard design prevents wheels from riding up and over millings, for more cutting force, reduced rolling resistance, and greater control of cut depth.
Independent tilt adjustment allows angle planing to the left and right of the machine, while cantilever drum mounting enables closer planing next to curbs.
Higher-capacity 64-oz. Auburn gearbox includes a drain-and-fill plug, for clean and easy fills using only a funnel.
Like all Worksite Pro™ attachments, these cold planers are optimized to work with John Deere skid steer loaders (SSLs), compact track loaders (CTLs), and compact wheel loaders (CWLs). They are also compatible with many competitive models. See your local Deere dealer for details.
Specifications
Model
CP18D†
Hydraulic Requirements
 
Flow
109-155 L/min. (29-41 gpm)
Relief Pressure
17 240-26 200 kPa
(2,500-3,800 psi)
Power
31.6-53.4 kW (42-72 hp)
Planing
 
Width
457 mm (18 in.)
Depth
0-127 mm (0-5 in.)
Capability
 
Tilt
± 8 deg.
Side-Shift
-76-559 mm (-3-22 in.)
Number of Carbide Teeth
45
Operating Weight
998 kg (2,200 lb.)
Connection
 
Hydraulic
12.7-mm (0.5 in.) quick-connect
couplers with 9.525-mm (0.375 in.)
case-drain coupler
Electrical
14 pin
Vehicle Compatibility
320G, 324G, 330G, and 332G
SSLs; 325G, 331G, and 333G CTLs;
244L and 324L CWLs*
RP18 Pick Kit Options
(for asphalt only)
AT462798
*CWLs require skid-steer-style Quick-Tatch™ coupler for operation.
†Requires high flow.