John Deere R4045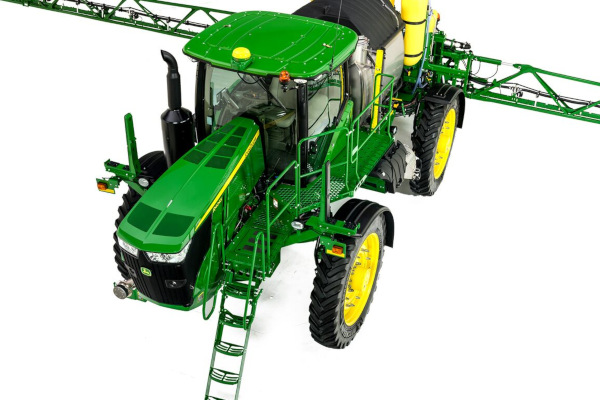 Double tap to zoom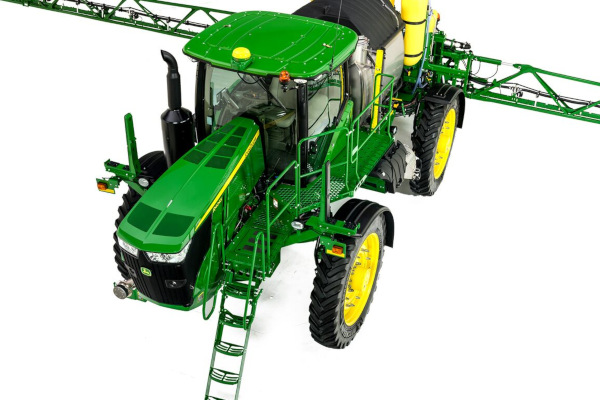 Features
CommandDrive™ powertrain delivers improved efficiency with Auto Mode
Spray more acres per day at a lower cost of operation with the CommandDrive powertrain. You will see an improved system response to maintain consistent application and transport speeds in challenging conditions, while reducing overall fuel consumption and cab noise.
The CommandDrive powertrain comes in base on all R4060 and R4045 Sprayers. This powertrain has the following features:
Auto Mode dynamically commands engine speed depending on load requirements
Reduce engine speed and save up to 20 percent on fuel consumption
3- to 5-decibel reduction in noise for long hours in the cab
Single pump flow instead of two
Improved traction control
Operator controls within easy reach in CommandView™ III cab with integrated GreenStar™ 4600 CommandCenter™ display
When operators first enter the Command View III cab, they will notice that significant changes have been made. Key sprayer controls are more easily accessible to the operator on the redesigned CommandARM™ control panel and the multifunction handle has a more ergonomic fit and feel.

The multifunction handle has six reconfigurable buttons, a scroll to select speed range, and allows operators to better manage their headlands with the Headland Management System (HMS™) button. To finish out the upgrades, the GreenStar™ display has been upgraded to a faster, more user-friendly 4600 CommandCenter™ display, which allows operators to efficiently capture, manage, and transfer data.

Comfort continues to be enhanced by the ComfortCommand™ seat, which offers both fore-aft and lateral attenuation along with 15 degrees of right-hand seat swivel on all cab options. For first-class comfort, the premium cab offers a heated/ventilated leather seat and light-emitting diode (LED) cab lights.

The 4 Series Sprayers are JDLink™ telematics system capable, which enable features such as John Deere Wireless Data Transfer (WDT), Service ADVISOR™ Remote diagnostics, and Remote Display Access (RDA). These integrated solutions enable additional uptime and reduce cost of operation. All of the CommandView III cab features allow operators to run longer hours, increasing the ability to get more acres sprayed in a day.
Steel and carbon-fiber booms feature swing-link suspension for optimum stability
Make fewer passes through the field and reduce compaction, as well as time spent spraying, with John Deere booms.
All John Deere booms are more stable due to the swing link suspension, which helps translate rough areas in the field into horizontal (side-to-side) movement of the boom rather than lateral (up and down) movement. This additional stability means increased productivity as the boom now has the ability to more accurately maintain spray height above the crop, delivering a precise spray pattern. The swing link suspension also translates into uptime as the additional stability means less crop damage, resulting in less mechanical boom damage.
The enhanced design allows the boom to unfold and fold faster, getting the operators into the field quicker, and the flat fold design delivers superior transport visibility.
Automate tasks from filling station with Solution Command System
4 Series Sprayers are available with the SCS and have been completely redesigned to allow quick and easy operation at the load station for all operator skill levels. The optional system allows complete automation at the load station with a 12-button keypad. The features include the following:
Fill station light on/off
Pump on/off
Agitation
Pump speed increase
Pump speed decrease
Eductor on/off
Master on/off
Automated rinse cycle
Visual nozzle check
Pull-on fill
Push-on fill
Target fill
The system also features a micro-display, providing real-time feedback on the system operations, as well as ability to select a rinse method and the ability to monitor progress during the automated rinse function. Overall, the enhanced Solution Command System increases operational performance by increasing ease of use through automation at the load station.
Load Command™ enables fastest loading speeds for maximum efficiency
Load at speeds as fast as 1500 L/min (400 gpm) with the fully integrated Load Command system available for John Deere's largest sprayer models. This highly efficient loading time allows for more spraying time or more acres per day while complementing the machine's three-season asset-utilization value.
How it works
Load Command allows the operator to pull the sprayer up to the tender unit, couple the Load Command tender arm to the Load Command coupler on the sprayer, and receive a full 4542-L (1200-gal.) load in as fast as 3 minutes and a full 6057-L (1600-gal.) load in 4 minutes.
| | | |
| --- | --- | --- |
| Model | Tank size | Load time |
| R4045 | 4542 L (1200 gal.) | 3 minutes |
| R4060 | 6057 L (1600 gal.) | 4 minutes |
Load Command dramatically reduces the fill time and the amount of operator interface time. When the system completes loading, the couplers automatically disengage from each other. This allows the operator to remain in the cab with the ability to quickly return to spraying.
By providing improved loading times, the John Deere R4045 and R4060 Sprayers with Load Command are more versatile, more productive, and will provide a better overall return on investment.
With the ability to create more spraying time, the Load Command system enables a custom applicator to achieve more value by applying products more efficiently and, in turn, generating more revenue per season.
Compatibility
Load Command can be ordered from the factory for R4045 and R4060 Sprayer models equipped with Auto Fill. Load Command is also available as a performance upgrade kit for existing 4930, 4940, R4045, and R4060 Sprayers.
NOTE: Load Command and Front Fill are not compatible to be installed on the machine at the same time.
Direct injection system expands carrying capacity for raw chemicals
As solution tank mixes become more complex, operators need a better way to manage the products they are mixing in helping to reduce the risk of chemical residue. The integrated direct-injection system provides an additional carrying capacity for raw chemicals and allows injection of single, dual, or triple products directly into the boom depending on installed configuration.
Machine
Direct injection
carrying capacity
Injection capability
R4030/R4038
model year 2015 and older
(serial number 10,999 and lower)
511 L (135 gal.)
Inject up to two chemicals
(one high volume, one low volume)
R4030/R4038
model year 2016 and newer
(serial number 11,000 and higher)
889 L (235 gal.) 
Inject up to three chemicals
(two high volume, one low volume)
R4045
889 L (235 gal.)
Inject up to three chemicals
(two high volume, one low volume)
NOTE: Low-volume tanks and pumps must be configured with at least one high-volume tank and pump. High-volume tank and pump can be configured by itself.
Direct injection helps provide quicker changeovers and faster cleanouts while also helping to minimize the risk of using multiple chemicals. This is accomplished by allowing operators the ability to isolate higher-residual-risk chemicals in the injection system while mixing lower-risk chemicals in the solution tank.
The minimum and maximum application rates for each pump are as follows:
Direct injection pump system
High-rate pump
Low-rate pump
Application rate range
(minimum to maximum)
148-5900 mL/min (5-200 oz/min)
29.6-1183 mL/min (1-40 oz/min)
Agitation capability
Not available - suspension products not recommended
Not available - suspension products not recommended
NOTE: See Operator's Manual for additional details based on boom size and speed range, and refer to Tools/Direct Inject Calculator within the ApplyPlus™ mobile app (download via Apple® App Store® or Google Play™ store).
Apple and App Store are trademarks of Apple Inc. Google Play is a trademark of Google LLC.
ExactApply™ nozzle control delivers precise application with up to 20 acres per hour of added productivity
John Deere's intelligent nozzle control system ExactApply helps producers better manage drift and deliver a precise application. By maintaining target rate and pressure over a wider speed range, ExactApply can improve productivity up to 20 acres per hour*.
*NOTE: Assumes a 3.2-km/h (2-mph) average operating speed increase.
ExactApply is offered as a factory-installed option as well as a performance upgrade kit that can be added to existing 4 Series Sprayer models. 
How it works
The ExactApply system features multiple modes of operation including pulse-width modulation (PWM) and individual nozzle control:
15-Hz PWM pulses one solenoid to achieve a consistent droplet size and maintain spray pressure throughout a wider range of speeds and application rates.
30-Hz PWM (combined mode) pulses both solenoids in the ExactApply nozzle body at 15 Hz, providing superior coverage. Combined mode allows ExactApply to have a 25 percent increased flow over current competitive systems in the market.
AutoSelect A/B automatically switches between two nozzles to maintain the desired spray pressure range while spraying conventionally.
Turn compensation varies the rate across the boom, ensuring the desired application rate. The rate decreases on the inside of the turn to not subject crop to chemical burn, while the rate on the outside of boom increases, ensuring the crop receives the desired application rate.
Individual nozzle control minimizes overlap by controlling product application through individual nozzles. This reduces chemical cost and ensures the product is placed where it is needed most. In comparison, traditional nozzle control functions in 11 sections, meaning section widths vary from 2.4 to 3.35 m (8 to 11 ft), depending upon boom width.
Precision Ag Technology enables you to monitor performance and maximize productivity
Connect Mobile overview
John Deere Connect Mobile is a solution that utilizes an Apple® iPad® tablet in the cab that provides the operator a better understanding of the sprayer's performance. Connect Mobile documents and displays several sprayer performance attributes, helping the operator monitor and more easily detect problems that can occur while spraying. Connect Mobile also has a common user interface that makes it easy to use between different pieces of John Deere equipment. Once the job is done, the iPad with the spraying data can be utilized to perform basic crop scouting activities in the field.
Spraying attributes
Monitor key performance indicators in map layers and dashboard tiles such as:
Actual rate
Rate deviation
Pressure
Ground speed
Droplet size
Target rate
Flow rate
Tank volume
Productivity
Fuel rate
In base equipment
Connect Mobile hardware is factory installed on all model year 2017 and newer R4030, R4038, R4044, R4045, and R4060 Sprayers, making it easy to get started with Connect Mobile.
Learn more about Connect Mobile in the Field and Crop Solutions section within the Precision Ag Technology product line and how it can improve the quality of a spraying job.
iPad and Apple are trademarks of Apple Inc.
Increase versatility with a DN456 Dry Spinner Spreader
Keep your machines working for you by converting them to dry nutrient applicators with the addition of a New Leader® DN456 Dry Spinner Spreader. This conversion can be completed in as little as 4 hours and involves the removal of the wet solution skid and the installation of the dry spinner spreader.
The DN456 features a carrying capacity of up 5.6 m3 (200 cu ft) or 6.6 tons of dry fertilizer (not approved for ag lime) and is capable of variable rate applications from 34 kg/ha (75 lb/acre) up to 3 ton/acre. The 1.83-m (72-in.) spinner heights allow spread width up to 32 m (105 ft) as it propels material across the pass. The New Leader G4 spinner technology provides a consistent spread pattern across the field for uniform pass to pass application.
The DN456 can be ordered with either 304 stainless-steel or 409 painted spreader material in single or dual product bin configurations with a #4 belt over chain conveyor.
New Leader is a registered trademark of Highway Equipment Company.
Specifications
Key Specs
Engine
Peak rated power
258 kW
346 hp
Solution system - Capacity
4542 L
1200 gal.
Rinse tank capacity
646 L
170 gal.
Boom length options/Material
27.4, 30.4, 36.5, or 40 m
90, 100, 120, or 132 ft
Boom Material: Steel or carbon fiber
Spray speed range
40 km/h
25 mph
Transport speed, maximum
56.8 km/h
35 mph
Suspension
Dual-strut independent wheel air-ride suspension
Crop clearance with standard tires
147 cm
58 in.
Total weight with widest boom
15,945 kg
35,153 lb
Engine
Peak rated power
258 kW
346 hp
Emissions
Final Tier 4
Number of cylinders
6
Displacement
9 L
549 cu in.
Alternator
200 amp
Fuel tank capacity
586.7 L
155 gal.
Diesel exhaust fluid (DEF) tank capacity
29.5 L
7.8 gal.
Solution system
Capacity
4542 L
1200 gal.
Tank material
Stainless steel
Rinse tank capacity
646 L
170 gal.
Quick fill size
7.6 cm
3 in.
Automatic section control
John Deere Section Control (optional)
Solution system control
Automatic (optional) or manual
Fill location
Side fill, front fill (optional), and LoadCommand (optional)
Chemical injection method
Direct injection (optional)
Chemical eductor
Stainless steel
Chemical eductor capacity (size)
32 L
8.5 gal.
Flow meter size
5.1 cm
2 in.
Suction strainer
20 mesh
Pressure strainer
50 mesh
Boom strainer
80 mesh
Boom
Boom length options
27.4, 30.4, 36.5, or 40 m
90, 100, 120, or 132 ft
Automatic boom height
BoomTrac Pro - 5 sensor (optional)
Plumbing material
Stainless or polypropylene
Boom Material
Steel or carbon fiber
Ground height adjustment
50 to 245 cm
19.6 to 96.5 in.
Breakaway width
Stainless-steel boom - 3.3 m
10.8 ft
Carbon fiber boom - 3.7 m
12.1 ft
Boom sections
13 sections with boom length - 40 m
132 ft
11 sections with boom length - 36.58 m
120 ft
9 sections with boom length - 30.48 m
100 ft
7 sections with boom length - 27.43 m
90 ft
ExactApply™ Nozzle Spacings
15 or 20 in.
Drivetrain
Type
Hydrostatic
Drive
Full-time four-wheel drive (4WD)
Shifting
Electrohydraulic
Hydraulic reservoir capacity
98.4 L
26 gal.
Spray speed range
40 km/h
25 mph
Transport speed, maximum
56.8 km/h
35 mph
Chassis
Dry compatible
Yes - 5.7 or 8.5 m3
200 or 300 cu ft
Suspension
Dual-strut independent wheel air-ride suspension
Crop clearance with standard tires
147 cm
58 in.
Front tires
380/105 R50, 420/95 R50, or 480/80 R50
Rear tires
380/105 R50, 420/95 R50, or 480/80 R50
Flotation tires
620/70 R46 or 800/55 R46
Hydraulic tread adjust
Hydraulic
Wheel tread spacing
305 to 406 cm
120 to 160 in.
Wheel base
430 cm
169.3 in.
Turning radius
9.2 m
30.2 ft
Parking brake
Spring-engaged, hydraulic-disengaged wet- disk pack
Primary brakes
Hydrostatic
Ladder raise/lower
Hydraulic
Total weight with 90-ft boom
15,613 kg
34,421 lb
Total weight with 100-ft boom
15,691 kg
34,593 lb
Total weight with 120-ft boom
15,945 kg
35,153 lb
Total weight with carbon fiber boom
36.6-m (120-ft) boom - 15,444 kg
34,048 lb
40.2-m (132-ft) boom - 15,499 kg
34,169 lb
Options
| | |
| --- | --- |
| Air compressor | Onboard air standard |
| Foam marker capacity | Injection foamer |