John Deere R4023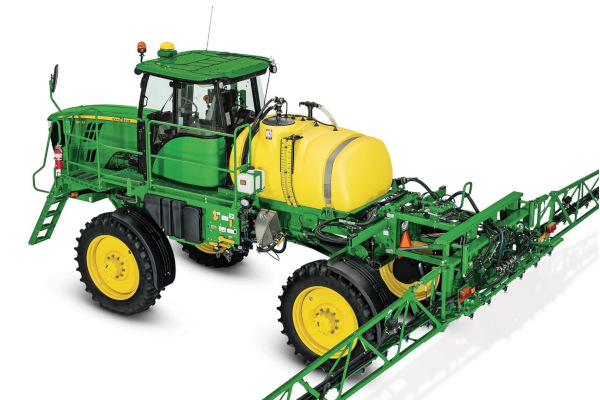 Double tap to zoom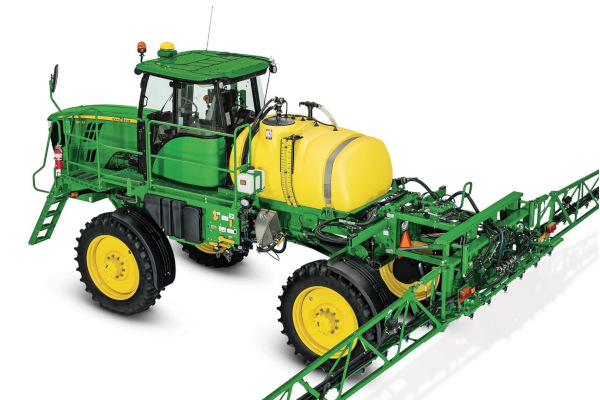 Features
Take advantage of the R4023 designed for versatility
Built with the same kind of innovative thinking as its popular 4 Series siblings, the R4023 Self-Propelled Sprayer combines versatility, productivity, and affordability in a 2271-L (600-gal.) sprayer.
The option of either a wide or narrow axle configuration enables this sprayer to fit a wide range of row spacing needs. Additionally, the R4023 offers key features that provide for a smooth ride that is necessary for those long days in the field.
Equipped with up to a 27.4-m (90-ft) fold feature, the R4023 allows the operator to fold the boom in quickly for headland turns. With the ability to add precision ag productivity boosting features, the R4023 enables more accurate, efficient, and comfortable spraying applications.
24.4-m and 27.4-m (80-ft and 90-ft) booms can fold in outer wing to spray in tight spaces
The R4023 Sprayer's booms are built with high-strength square tube. 

The boom incorporates a strong 3-D design. This design gives the boom more strength to resist fore-aft loading generated by starts, stops, and turns, as well as twisting loads caused by folding and unfolding operations.

The boom plumbing and nozzles are set between and up inside the two bottom square tubes of the boom structure. This protects the nozzle bodies from hitting objects that could damage the sprayer or affect the spray pattern.

The R4023 boom comes in an 18.3-m/24.4-m (60-ft/80-ft) or 18.29-m/27.44-m (60-ft/90-ft) configuration. Simply fold in the outer wing and go from spraying at 24.4 m/27.44 m to 18.3 m (80 ft/90 ft to 60 ft). When the outer wing is folded over top, it is supported by cradles to ensure it will remain in place and secure while spraying in the 18.3-m (60-ft) configuration in rough fields.

Increased boom sections provide the operator more precise application:
24.4-m (80-ft) boom-5 sections
27-m (90-ft) boom-7 sections
The breakaway ends of the boom offer the operator protection against damaging the boom if the boom unexpectedly hits an obstacle. The breakaway section of the boom uses a design that holds the breakaway from breaking backward while operating normally in the field, but when something is contacted, it will move rearward and out of the way to prevent major damage.

Each breakaway section resets using a spring, and then resets back to the spray position.

When the booms are folded in, the transport cradles on the machine support a large portion of the boom that, in turn, spreads out the stress.

While in transport position, the booms are cradled so that visibility is maximized to either side of the sprayer. By folding the booms flat, visibility is increased and the overall height of the machine is not affected.
Turbocharged PowerTech™ PSS 4.5L Tier 4 diesel engine delivers 129 kW (173 hp)
The R4023 Sprayer provides 129 kW (173 hp) with a 5 percent power bulge to 136 kW (182 hp) and 6071 kg/cu m (538 lb-ft) of peak torque to get through tough field conditions.
John Deere PowerTech PSS (two-valve) 4.5L engine features include:
Four-cylinder, eight-valve head (two valves per cylinder)
Cooled exhaust gas recirculation (EGR)
Exhaust filters
Selective catalytic reduction (SCR)
Air-to-air charge air cooler (CAC), aftercooled
High-pressure common rail (HPCR) fuel injection system
Series turbocharger
In addition to reducing emissions and lowering engine idle noise, its compact size allows it to fit neatly under the hood for great visibility of the rows passing underneath the operator.

An increase in fuel tank size makes it possible to spray for up to 16 hours without refueling. By equipping the R4023 Sprayer with a 310-L (82-gal.) fuel tank, the operator will have plenty of fuel to spray for a full day.
Handle rough and uneven terrain with ease through soft shock technology
The R4023 now offers two factory installed shock solutions to accommodate various field conditions. For optimal comfort in rough or uneven terrain conditions such as no-till or stripped fields, a Soft Shock option is now available.

The Soft Shock will take the place of the adjustable shock dampener used on the 4630 and will be offered as a factory-installed option. This fixed shock provides 50 percent less dampening force which allows for a smooth ride up to 32.2 km/h (20-mph) spray speed in those uneven field conditions. The Soft Shock may also provide a more responsive feel for operators in turns or when starting/stopping quickly.

NOTE: The standard shock option is unchanged from previous models and is recommended for general use.
Air bag/shock suspended axle provides a comfortable ride even in rough conditions
The suspension design on the R4023 Sprayer uses a four-bar link system along with an air bag and shock combination to provide a comfortable ride.

Two large air springs sit atop each axle, similar to those used on over-the-road trucks and other John Deere sprayers. These air springs are dampened with oil-filled shocks to smooth the ride.

Connecting rods link the axle to the large cast mount that is bolted to the C-channel frame with a Huck® bolt. The axle-connecting rods are parallel for vertical motion and cross linked for lateral stability.
The R4023 Sprayer's standard suspension provides for 152 mm (6 in.) of travel at the air bag. The air springs are underneath the frame; therefore, visibility of the rows passing underneath is free of suspension components.
 
The air springs are adjusted by adding or removing air through a standard air-stem valve on top of each spring or, if the sprayer is equipped with auto air-spring leveling, the air springs will inflate to the optimum level for the best-possible ride.
Auto air-spring leveling system adjusts for optimal field performance
The auto air-spring leveling system is standard equipment. This feature maintains ride height, ensuring 102 mm (4 in.) of travel up and down at all times for 203 mm (8 in.) of total travel. The operator does not have to individually fill each bag or deflate each bag for transport, saving as much as 10 minutes. A switch located near the solution loading system deflates all four bags at one time. Once the machine is running, the on-board air compressor automatically inflates the bags to the optimal set ride height.

Huck is a trademark of Alcoa Incorporated.
Fit variety of cropping row widths with wide and narrow axle options
Two axle widths are available to best fit a variety of cropping row widths.
The narrow width axle has a tread width from 183 cm to 224 cm (72 in. to 88 in.) and a clearance of 112 cm (44 in.). The wide axle has a tread width from 234 cm to 307 cm (92 in. to 121 in.) and a clearance of 127 cm (50 in.). Axle range for wide machines varies slightly depending on the option (hydraulic vs. manual tread adjust) that is being used.
NOTE: In order to achieve 229-cm (90-in.) tread spacing, IF320/80R42 tires must be used with AN401678 rims. Please see your local John Deere Dealer for more information.
With these tread spacings, the R4023 Sprayer holds an impressive 46-54 weight split when unfolded, fully loaded. This weight split helps to reduce compaction through the field and keeps the power to the ground.
The wide axle is ideal for the Midwest grain farmer. With the wide axle option, the operator can straddle three rows at 76.2-cm (30-in.), 81.3-cm (32-in.), 86.4-cm (34-in.), 91.4-cm (36-in.), 96.5-cm (38-in.), or 101.6-cm (40-in.) spacing or four rows at 76.2-cm (30-in.) spacing.
The narrow axle is ideal for the cotton or specialty crop farmer. With the narrow axle option, the operator can straddle two rows at 91.4-cm (36-in.), 96.5-cm (38-in.), or 101.6-cm (40-in.) row spacing.
Optimal weight distribution maximizes window to operate in field
Having the optimal weight distribution results in a lighter footprint leaving less compaction and less damage to the field, allowing the operator to get into the field earlier. 

The R4023 Sprayer was built with the optimal weight distribution. 
CommandARM™ console and multifunction handle position controls within easy reach for improved operator experience
When operators first enter the model year 2018 R4023 cab, they will notice that there have been significant changes made. Key sprayer controls are more easily accessible to the operator on the redesigned CommandARM and the multifunction handle has a more ergonomic fit and feel.

The multifunction handle has six reconfigurable buttons, a scroll to select speed range, and allows operators to better manage their headlands with the Headland Management System (HMS™) button.

To finish out the upgrades, the GreenStar™ display has been upgraded to a faster, more user-friendly 4600 CommandCenter™ display, which allows operators to efficiently capture, manage, and transfer data.
Connect Mobile overview
John Deere Connect Mobile is a solution that utilizes an Apple® iPad® tablet in the cab that provides the operator a better understanding of the sprayer's performance. Connect Mobile documents and displays several sprayer performance attributes, helping the operator monitor and more easily detect problems that can occur while spraying. Connect Mobile also has a common user interface that makes it easy to use between different pieces of John Deere equipment. Once the job is done, the iPad with the spraying data can be utilized to perform basic crop scouting activities in the field.
Spraying attributes
Monitor key performance indicators in map layers and dashboard tiles such as:
Actual rate
Rate deviation
Pressure
Ground speed
Droplet size
Target rate
Flow rate
Tank volume
Productivity
Fuel rate
In base equipment
Connect Mobile hardware is factory installed on all model year 2017 and newer R4030, R4038, R4044, R4045, and R4060 Sprayers, making it easy to get started with Connect Mobile.
Learn more about Connect Mobile in the Field and Crop Solutions section within the Precision Ag Technology product line and how it can improve the quality of a spraying job.
iPad and Apple are trademarks of Apple Inc.
ExactApply™ nozzle control delivers precise application with up to 20 acres per hour of added productivity
John Deere's intelligent nozzle control system ExactApply helps producers better manage drift and deliver a precise application. By maintaining target rate and pressure over a wider speed range, ExactApply can improve productivity up to 20 acres per hour*.
*NOTE: Assumes a 3.2-km/h (2-mph) average operating speed increase.
ExactApply is offered as a factory-installed option as well as a performance upgrade kit that can be added to existing 4 Series Sprayer models. 
How it works
The ExactApply system features multiple modes of operation including pulse-width modulation (PWM) and individual nozzle control:
15-Hz PWM pulses one solenoid to achieve a consistent droplet size and maintain spray pressure throughout a wider range of speeds and application rates.
30-Hz PWM (combined mode) pulses both solenoids in the ExactApply nozzle body at 15 Hz, providing superior coverage. Combined mode allows ExactApply to have a 25 percent increased flow over current competitive systems in the market.
AutoSelect A/B automatically switches between two nozzles to maintain the desired spray pressure range while spraying conventionally.
Turn compensation varies the rate across the boom, ensuring the desired application rate. The rate decreases on the inside of the turn to not subject crop to chemical burn, while the rate on the outside of boom increases, ensuring the crop receives the desired application rate.
Individual nozzle control minimizes overlap by controlling product application through individual nozzles. This reduces chemical cost and ensures the product is placed where it is needed most. In comparison, traditional nozzle control functions in 11 sections, meaning section widths vary from 2.4 to 3.35 m (8 to 11 ft), depending upon boom width.
Gain the advantages of a JDLink™ connected machine
Customer needs and their success is John Deere's focus. As functionality becomes more accepted and even expected, that functionality moves from being optional to being included with the machine. In model year 2019, AutoTrac™ guidance and documentation was included on machines equipped with a 4600 CommandCenter™ Display. Five years of JDLink is also included with the purchase of all model year 2020 machines equipped with a 4G LTE Modular Telematics Gateway (MTG). The functionality of JDLink on these machines includes everything that was previously included with JDLink Access + Remote Display Access (RDA) and JDLink Connect subscriptions. This added connectivity enables customers to more easily realize the value of a connected machine.
Easily transfer data and collaborate with trusted advisors to plan your field work quickly. You or your employees can spend more time in the field working rather than sitting on a headland setting up the technology. With a connection between John Deere Operations Center and your machines, changes to field plans occur as needed. Those changes may include changes in varieties, application rates, or machines.
Better enable data-driven decisions. By using the insights gathered from machines along with the tools in Operations Center (e.g., Field Analyzer, Field Analyzer Beta, and Machine Analyzer) you can understand how your fields are performing and what field plans had an impact. John Deere Operations Center gives you access to more than 100 connected software tools, so you have the ultimate choice of popular industry tools. And, if you don't want to analyze the data yourself, you can share the data with those that help you make decisions to provide the insights you need.
Report work completed accurately and timely for compliance and billing purposes.
Increase machine uptime with Connected Support. Your local John Deere dealer can provide remote monitoring services and diagnostics to help keep your machines up and running, reduce your maintenance expenses through early detection of problems, and provide over-the-air software updates for displays, receivers, and controllers.
Get quick in-field support with RDA. You can monitor your machines from your office computer or a mobile device on the go.
Remotely manage machines and employees to give you insights into how they are performing. If machines are being underutilized or field operations are not being properly conducted, you can put plans in place to improve productivity.
Quickly make changes to improve your harvesting operations by remotely viewing and adjusting combine settings.
To use JDLink, the following is required:
MTG
An active JDLink subscription
A John Deere Operations Center account to access machine and agronomic data
Specifications
Key Specs
Engine
Peak rated power
129 kW
173 hp
Solution system - Capacity
2300 L
600 gal.
Rinse tank capacity
265 L
70 gal.
Boom length options/Material
18 or 24 m
60/80 or 60/90 ft
Boom Material: Steel
Spray speed range
0 to 32 km/h
0 to 20 mph
Transport speed, maximum
43 km/h
27 mph
Suspension
Air bar/shock suspended
Crop clearance with standard tires
Narrow - 112 cm
44 in.
Wide - 127 cm
50 in.
Engine
Peak rated power
129 kW
173 hp
Emissions
Final Tier 4
Number of cylinders
4
Displacement
4.5 L
276 cu in.
Fuel tank capacity
310 L
82 gal.
Diesel exhaust fluid (DEF) tank capacity
17 L
4.5 gal.
Solution system
Capacity
2300 L
600 gal.
Tank material
Polyethylene
Rinse tank capacity
265 L
70 gal.
Quick fill size
5.1 cm
2 in.
Automatic section control
John Deere Section Control (optional)
Solution system control
Manual
Fill location
Side fill
Chemical eductor
Stainless steel
Chemical eductor capacity (size)
20 L
5.5 gal.
Flow meter size
5.1 cm
2 in.
Suction strainer
16 mesh
Pressure strainer
50 mesh
Boom strainer
80 mesh
Boom
Boom length options
18 or 24 m
60/80 or 60/90 ft
Automatic boom height
BoomTrac Pro - 3 sensor (optional)
Plumbing material
Polypropylene
Boom Material
Steel
Ground height adjustment
38 to 193 cm
15 to 76 in.
Breakaway width
1.83 m
6 ft
Boom sections
Five or seven
ExactApply™ Nozzle Spacings
N/A
Drivetrain
Type
Hydrostatic tandem Saur pumps
Pump size is tandem - 75 cc
4.58 cu in.
Drive
Full-time four-wheel drive (4WD)
Shifting
Electrohydraulic (on the go)
Hydraulic reservoir capacity
61 L
16 gal.
Spray speed range
0 to 32 km/h
0 to 20 mph
Transport speed, maximum
43 km/h
27 mph
Chassis
Dry compatible
No
Suspension
Air bar/shock suspended
Crop clearance with standard tires
Narrow - 112 cm
44 in.
Wide - 127 cm
50 in.
Front tires
IF320/80R42, 380/R80R38, IF380/80R38, or 420/85R34
Rear tires
IF320/80R42, 380/R80R38, IF380/80R38, or 420/85R34
Hydraulic tread adjust
Manual standard
Hydraulic optional (wide only)
Wheel tread spacing
Narrow - 183 to 224 cm
72 to 88 in.
Wide - 229 to 305 cm
90 to 120 in.
Wheel base
373 cm
147 in.
Turning radius
4.9 m
16 ft
Parking brake
Hydraulic release
Primary brakes
Hydrostatic
Ladder raise/lower
Hydraulic
Total weight with 80-ft boom
8,240 kg
18,165 lb
Options
| | |
| --- | --- |
| Air compressor | Standard |
| Foam marker capacity | Direct injection optional |