John Deere 6230R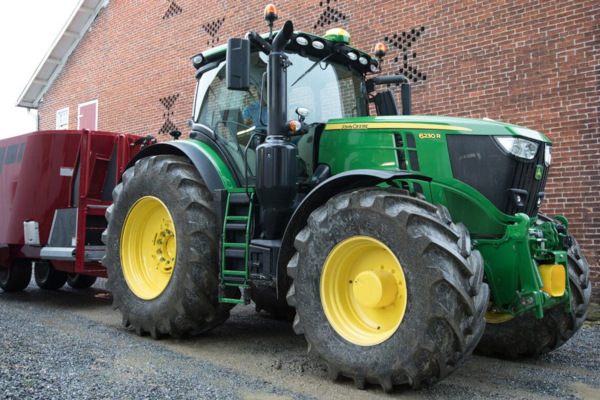 Double tap to zoom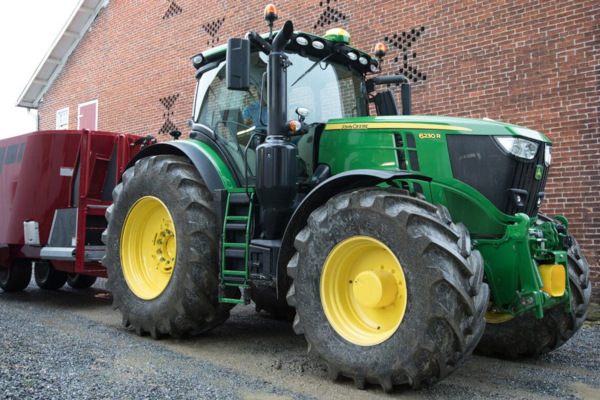 Features
CommandCenter™ display
Infinitely Variable Transmission (AutoPowr™/IVT™) system
CommandPRO™ joystick driving strategy
Rear-mounted selective control valves (SCVs)
ComfortView™ cab operator environment
PowerTech™ PVS/PSS Stage 4 engine
Lighting options provide maximum visibility in every direction
Triple-Link Suspension (TLS™) Plus: More than comfort, it is a performance feature
John Deere Connected Support™ prevents downtime and efficiently resolves issues with revolutionary technology-based solutions
Specifications
Key Specs
Engine description
John Deere PowerTech™ PSS
Engine displacement
6.8 L
415 cu in.
Rated engine power
97/68EC: 169 kW
230 hp
Maximum engine power
97/68EC: 186 kW
253 hp
Rated PTO power (hp SAE)
136 kW
185 hp
Transmission type
Infinitely variable transmission (IVT™) 0.050-42 km/h
0.030-26 mph
IVT 0.050-50 km/h
0.030-31 mph
Hydraulic pump rated output
Standard: 85 cc pump: 160 L/min
42 gpm
Rear hitch category (SAE designation)
Standard: Category 3/3N: 7400 kg
16,300 lb
Maximum: 10,400 kg
22,900 lb
Engine specifications
Description
John Deere PowerTech™ PSS
Engine type
Diesel, in-line, 6-cylinder, wet-sleeve cylinder liners with 4 valves in head
Engine family
JJDXL06.8309
Rated speed
2100 rpm
Aspiration
Turbocharged, variable geometry and fixed turbocharger with air-to-air aftercooling and cooled exhaust gas recirculation
Emission level
Final Tier 4
After treatment type
DOC/DPF/SCR
Displacement
6.8 L
415 cu in.
Engine performance
Rated power
97/68EC: 169 kW
230 hp
Rated PTO power (hp SAE)
136 kW
185 hp
Power boost
10 percent
Maximum engine power
97/68EC: 186 kW
253 hp
Engine peak torque
At 1,600 rpm: 1074 Nm
792 lb-ft
Transmission
Type
Infinitely variable transmission (IVT™) 0.050-42 km/h
0.030-26 mph
IVT 0.050-50 km/h
0.030-31 mph
Hydraulic system
Type
Closed-center, pressure/flow compensated
Pump rated output
Standard: 85 cc pump: 160 L/min
42 gpm
Available flow at a single rear SCV
116 L/min
30.6 gpm
Number of rear selective control valves (SCVs)
Standard: Three ISO couplers
Optional: Three to six ISO couplers
SCV control
Electronic
Rear hitch
Hitch category (SAE designation)
Category 3/3N: 7400 kg
16,300 lb
Maximum: 10,400 kg
22,900 lb
Sensing type
Electrohydraulic
Drawbar
Drawbar category
Category 3
Maximum vertical load
Category 3: 1600-2800 kg
3527-6172 lb
Maximum vertical load dependent on drawbar position
Rear power take-off (PTO)
Type
Independent
Standard: 35 mm (1.375 in) 540, 1000 rpm reversible shaft
Optional: 35 mm (1.375 in) 540, 540E, 1000 rpm reversible shaft
35 mm (1.375 in) 540E, 1000, 1000E rpm reversible shaft
Engine rpm (at rated PTO speeds)
1950 engine rpm at 540/1000 rpm PTO
1761 engine rpm at 540E rpm PTO
1756 engine rpm at 1000E rpm PTO
Type
Standard: 100 x 2550 mm
3.94 x 100.4 in.
Final drive type
Inboard planetary three pinion
Rear differential lock
Full-locking electrohydraulic
Front axle
Type
Standard: Mechanical front-wheel drive (MFWD)
Optional: Triple link suspension (TLS™)
Front axle differential lock
MFWD: limited slip
TLS: limited slip
TLS with brakes: Full-locking electrohydraulic
Tires
Wheel tread range
MFWD: With TLS and brakes: 2370 mm
93.3 in.
Alternator size
Standard: 240 amp
Battery options
12 V
Working lights
Standard: 14 halogen
Available: 12 LED plus two halogen
Type of bulb in headlight (Halogen, Zenon, LED)

Standard: 65-W halogen
Available: LED
Total cold cranking amps
1850 CCA
Operator station
Seat
Degree of seat swivel, left hand
7.5 degree
Degree of seat swivel, right hand
30 degree
Standard: Air suspension
Optional: Deluxe air suspension
Cab suspension
Adaptive Hydraulic Cab Suspension Plus (HCS Plus)
Instructional seat
Standard
Display
LCD instrument cluster
Standard: CommandCenter™ display: 213.4 mm
8.4 in.
Radio
Optional
Dimensions
Wheelbase
2900 mm
114 in.
Front axle center
MFWD/TLS axle under differential housing
Weight
Base machine weight
Total
9300 kg
21,100 lb
Maximum permissible weight
Flange axle: 15,000 kg
33,000 lb
Rack-and-pinion axle: 13,450 kg
29,652 lb
Capacities
Crankcase oil volume
23.5 L
6.2 U.S. gal.
Fuel tank
Standard: 470 L
124.1 U.S. gal.
Optional: 410 L
108.3 U.S. gal.
Diesel exhaust fluid (DEF) tank
25 L
6.6 U.S. gal.
Cooling system
29.4 L
7.7 U.S. gal.
Transmission-hydraulic system
IVT: 160 L
42.2 U.S. gal.
Serviceability
| | |
| --- | --- |
| Interval for engine oil change | 750 hours |
| Interval for hydraulic/transmission oil change | 1,500 hours |
| Interval for engine coolant change | 6,000 hours |