John Deere GreenStar™ 3 2630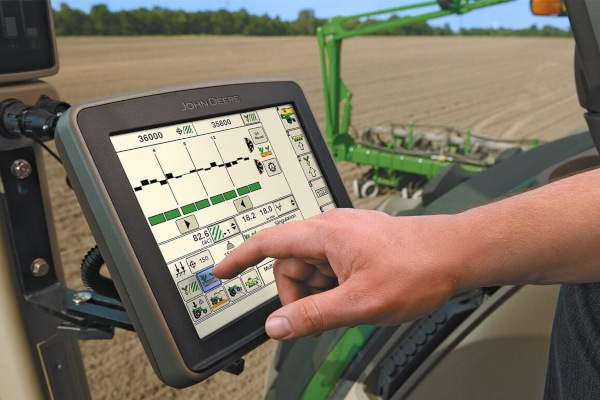 Double tap to zoom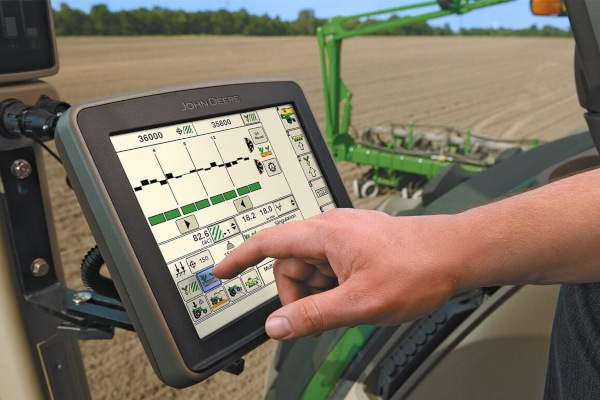 Features
Take advantage of software and ISOBUS hardware capability
The John Deere GreenStar™ 3 2630 Display is a 26-cm (10.4-in.) color display that features a full-color touchscreen for controlling a variety of precision applications, machines, and implements.
The GreenStar 3 2630 Display also allows operators to set up multiple home pages and navigate to each home page easily and efficiently, all while other applications are in use. The GreenStar 3 2630 Display is specifically designed for producers who desire maximum efficiency, productivity, and premium features outlined below.
Manage variable-rate applications and prescriptions
With growing costs of seed, fertilizers, and agrochemicals, the interest in site-specific application is rising tremendously. The GreenStar™ 3 2630 Display takes variable-rate application to the next level with a large color display for viewing and creating maps. The GreenStar 3 2630 Display also works with approved (ISOBUS-) rate controllers to enhance variable-rate application.
 
Variable rate technology allows input application rates to be varied across fields to specifically manage field variability. The variable-rate application reduces input usage and environmental impacts while increasing efficiency and providing economic benefits. An example would be applying fertilizer to areas with high yield potential and reducing the amount of fertilizer in areas where nutrients are more likely to be washed out.
Increase profitability with documentation and information management
There is an increasing need and requirement to document the production process from field preparation to crop harvest. Precise documentation capabilities are provided by the GreenStar™ 3 2630 Display. 
 
On-screen mapping provides in-cab visualization in color and, by color-coding each pass on a map, the display provides a real-time picture of the crop harvested or rates applied when spraying, spreading, or planting. Apex™ software or compatible desktop software helps optimize business through more informed decision making while also meeting regulation requirements.
 
A task can be planned on the desktop software and transferred to the display. Field operations are recorded and stored. The data can then be transferred from the display, using a flash drive, to the desktop software for job reporting and analysis. This means less paperwork and more focus on analysis.
 
The documentation functionality provides data collection tools to document the farming operation. Features include:
On-screen mapping
Jobs
Variable-rate applications
As-applied map
Coverage map
Markers
Conditions (soil and weather)
Data collected on the display via these functionalities are providing a solid basis for precise, complete, and easy documentation.
Maximize efficiency when teamed up with precision applications
A variety of John Deere precision applications can be run on the GreenStar™ 3 (GS3) 2630 Display with a StarFire™ 6000 or StarFire 3000 Receiver regardless if it is planting or harvesting season, or for any application in between.
One single display and receiver can increase an operation's productivity and provide a consistent operating experience.
The following activations can be purchased and unlocked on the display with a 24-digit activation code:
AutoTrac™ assisted steering system increases productivity, reduces input costs, and leaves an operator with more energy. The GS3 2630 Display coupled with AutoTrac activation can provide automatic guidance with integrated AutoTrac, AutoTrac Controller, or AutoTrac Universal.
AutoTrac RowSense guidance system provides the best in automatic guidance by pairing up row feeler data with satellite positioning data when harvesting row crops with a combine or John Deere self- propelled forage harvester.
Pivot Pro brings all the benefits of AutoTrac to applications needing automated tracking in circle mode.
John Deere Section Control reduces input cost by automatically turning implement sections off in previously covered areas and turning them back on precisely to decrease skips.
iTEC™ Pro system automates end-row functions to reduce operator stress and increase efficiency while consistently managing headland space.
John Deere Machine Sync system provides combine harvest automation, harvest logistics, coverage map sharing, and guidance line sharing functionality.
Surface Water Pro Plus™ system offers the additional benefits of advanced ditching.
Additional applications for the GS3 2630 Display and StarFire receivers
These applications do not require a separate activation for the display:
John Deere Active Implement Guidance keeps the implement and the tractor on the same guidance line to achieve optimal input placement.
iGrade™ leveling system offers automated land leveling
John Deere mobile weather
John Deere Harvest ID, Cotton
John Deere Rate Controller
John Deere Rate Controller, Dry
GS3 DEMO ACTIVATIONS
There are 15-hour demo activations available for the GS3 2630 Display. The following activations are available for demonstrations:
AutoTrac
AutoTrac RowSense™
Pivot Pro
John Deere Section Control
iTEC™ Pro system
Surface Water Pro Plus
Ability to upgrade and maximize investment with GreenStar™ 3 Display
Upgrades
John Deere precision agricultural technology provides multiple opportunities to upgrade. Producers can confidently invest in technology today, knowing it can grow and change as their operations do. Producers can contact a John Deere dealer to learn more about available solutions.
Software upgrade
Producers have the ability to upgrade signal accuracy with activations on the receiver only and no need to update AutoTrac™ assisted steering system display activation.
John Deere dealers offer an upgrade option for all AMS software applications from a previous to newer model.
Hardware upgrade
Producers also have the ability to upgrade to the latest displays and receivers.
Upgrade to:
GreenStar 3 Display
StarFire™ 6000 or 3000 Receiver
Maximizing investment cost
Many of the same solutions available with AutoTrac are compatible with the GreenStar system using AutoTrac Controller or AutoTrac Universal. Additional solutions available include John Deere Active Implement Guidance, John Deere Section Control, and the GreenStar Rate Controller.
This provides many options with one constant: stretching the producer's money to bring more optimization to all equipment.
Producers will need to determine what:
Display and receiver meets each machine's needs
Displays and receivers meet the operation's need today and in the future
GreenStar display sample options
Use existing GreenStar display and move display between machines throughout the cropping cycle:
GreenStar 3 2630 Display
GreenStar 2 1800 Display
Upgrade to a new display, trade in existing display
Transfer activations within GreenStar 2 Display (GreenStar 2 2600 or GreenStar 2 1800 Display)
Upgrade activations to a GreenStar 3 Display (GreenStar 3 2630 Display)
Add a new display
This allows each machine to have a dedicated display and eliminates the need to move a display from machine to machine.
GreenStar 3 2630 Display
GreenStar 2 1800 Display
Receiver options
>
Use an existing StarFire receiver and move it between machines throughout the cropping cycle
StarFire 6000 Receiver
StarFire 3000 Receiver
Add a new receiver
This allows each machine to have a dedicated receiver and eliminates the need to move a receiver from machine to machine
All producers, whether new to precision technology or an experienced user, are invited to visit a John Deere dealer to customize the right precision solution package that meets needs now and in the future.
Enabling Remote Display Access (RDA) and Wireless Data Transfer (WDT) utilizing common AMS and JDLink™ Connect system
Leverage common components from JDLink Connect to enable wireless transfer of setup files and documentation data as well as remote monitoring and support.
To use RDA or WDT, the following components are required:
GreenStar™ 3 2630 Display for RDA or WDT or Generation 4 CommandCenter™ Display for RDA or WDT
Ethernet cable
Computer or mobile device with internet connection
Updated display software version
Active JDLink Connect subscription
As the number of precision ag products continues to increase, more technology becomes integrated into ag equipment. Managers need the ability to send data and provide remote support for operators with varying skill level.
From any internet-connected device, managers can view exactly what the operator sees on the GreenStar 3 2630 Display and Generation 4 CommandCenter. Managers can also send setup information and receive documentation files in the Operations Center from most internet-connected devices.
Learn more at the following links:
Wireless Data Transfer
Connect a GreenStar™ 3 2630 Display to the Modular Telematics Gateway (MTG) with an Ethernet cable
Specifications
Sorry, currently there are no specs but check back with us later.