John Deere AutoTrac™ RowSense™ (Available on Combines, Sprayers and Tractors)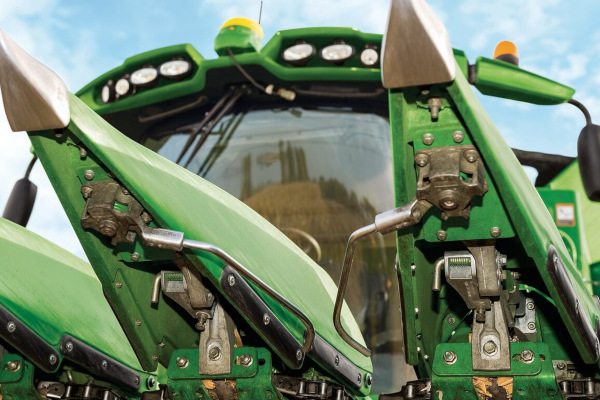 Double tap to zoom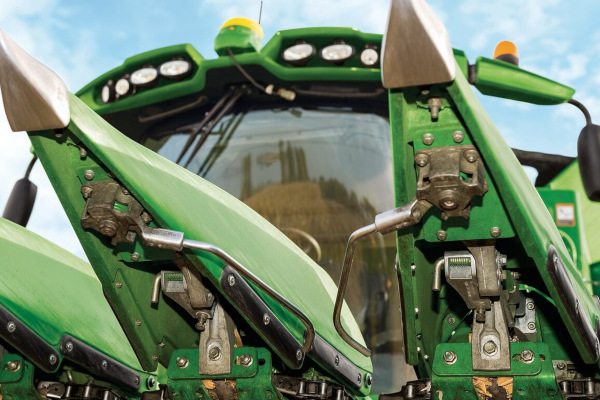 Features
Reduce operator stress while following crop rows with AutoTrac™ Vision and RowSense™
AutoTrac RowSense functionality has revolutionized the ability to use AutoTrac for post-emergence applications in 76.2- to 101.6-cm (30- to 40-in.) row crops. Operators have the ability to use AutoTrac RowSense in later-season corn.

Anyone who has spent a long day spraying fungicide in July or harvesting corn in October knows how stressful it can be to stare forward out of the cab and focus on the corn row ahead. On top of steering the machine, an operator is required to monitor performance, spray rates, and grain or forage quality, and manage tender trucks and grain carts. Operating at night, in windy conditions, or while harvesting lodged corn can add even more stress to the operation.

A study using advanced, eye-tracking glasses determined where an operator's attention is focused while operating a sprayer through tall, standing corn. Without AutoTrac RowSense or Vision, the operator spent about 82.5 percent of the time looking forward. When AutoTrac RowSense or Vision was utilized, the same operators only spent 70 percent of the time looking forward and more time watching sprayer booms and monitoring machine performance on the vehicle display. AutoTrac RowSense focuses on steering so the operator can focus on other value-added tasks.
Maximize equipment efficiency
Getting more work done in less time is the name of the game for progressive producers, ag service providers, and custom spraying operations. One way to do this is to make sure equipment is operating at the optimum operating speed as much as possible.

While operating a self-propelled sprayer, consistent, optimal operating speeds lead to covering more acres per day. This means more revenue for ag service providers and more timely chemical applications within narrow windows for producers. Also, driving at a consistent speed is critical for applying accurate chemical rates across the entire field for more effective applications. With RowSense driving the sprayer through the row, even in varying field conditions, operators of any experience level will be able to the maximize productivity and efficiency of product applications.
Improve yields through accurate row following
Producers work too hard to grow quality crops to afford to leave any of that yield potential in the field. However, while spraying standing corn, yield-limiting damage or losses can occur.
When spraying, some operators may choose to cross crop rows to simplify spraying and reduce stress. However, this method of spraying can damage more the 2 percent of the plants in the field. To improve yields, many operators will follow crop rows to reduce this damage. In this instance, keeping the sprayer's wheels in between the corn rows is important to ensure that plants are not damaged and can reach their full yield potential.

Unfortunately, with so much going on in the sprayer cab during long days, a small lapse in attention can result in significant crop damage. For example, an operator spraying at 15 miles per hour who is misaligned with the row for 1 second could damage more than 90 corn plants. During the course of a day, a few minor misalignments could lead to major damage. With AutoTrac RowSense, the operator can be confident that the sprayer is staying in the row, even if they cannot physically see the sprayer wheels.
Follow the correct row with RowSense™ system
All operators know that not all fields are created equal. In some instances, there will be nice even, clean stands while other may have washouts, missing crop and excessive weeds pressure. In these situations, AutoTrac RowSense system will fall back on the GPS to keep the vehicle in the row.

Operators will have the ability to choose to operate with both sensors when applying in later-season corn (Vision and RowSense). The system will use Vision first for priority and then fall back to RowSense if Vision confidence is lower than optimal operating range. This is called RowSense fallback. If confidence is low on AutoTrac RowSense, the system defaults to GPS using the operator's guidance line.

With the AutoTrac RowSense system, the row sensors are the first priority when it comes to guiding the machine down the row. As long as the sensors detect the corn plants, these inputs will be provided to the AutoTrac system and the machine will follow the row. In other instances, where the sensors are not detecting crop rows due to missing plants, the system will quickly switch to GPS-only guidance until good, stable rows are detected again.

For example, crop stands following a wet spring may have uneven stands and areas where the corn was drowned out. As the machine crosses into the washed-out areas while spraying, the system will detect that crop is missing and will quickly switch to GPS-only mode to guide the sprayer across the troubled area and into the correct row on the other side. When harvesting and crossing a passable waterway, the system will behave similarly, guiding the combine or self-propelled forage harvester (SPFH) into the proper row on the other side. In either situation, staying on the correct row maximizes efficiency in the field. GPS fusion ensures the operator follows the correct row even when conditions get tough.
Display, global positioning system (GPS) receiver, and activation compatibility
Additionally, appropriate wiring harnesses and brackets are needed to mount and connect components to allow AutoTrac Vision and RowSense™ to work appropriately.
AutoTrac™ RowSense™ system benefits while spraying in standing corn
AutoTrac™ RowSense™ system enables sprayer operators to experience the benefits of AutoTrac while spraying in standing corn rows. The system provides additional input to the AutoTrac system to ensure that the sprayer is accurately following the planted crop rows. This product has been designed and tested in straight corn rows with 76.2- to 101.6-cm (30- to 40-in.) row spacing at speeds up to 32.2 km/h (20 mph). By utilizing RowSense, operators can experience reduced crop damage, faster operating speeds, and reduced operator fatigue.

The RowSense system has been designed for maximum uptime. The kit includes two RowSense sensor assemblies; one for each front wheel. This design detects separate crop rows for better performance in poor crop stands. The brackets are mounted within the wheel to help protect them in challenging terrain. The paddles can be removed in less than 10 minutes for trailering or operating in other crops where RowSense is not compatible.

NOTE: It is recommended that RowSense sensor paddles should only be installed on the machine when operators are intending to use them for guidance. This should happen later in the crop stages when the crop rows are starting to shade over making it harder to see the soil. This will help to ensure maximum crop safety.

AutoTrac RowSense has been shown to perform well in straight rows whenever the sensor contacts the corn plant on the stalk, rather than the leafy part of the plant. This generally occurs at a plant height of around 1.2 m (4 ft) with many varieties. If a row guidance solution is desired in early crop stages, be sure to check out AutoTrac Vision in the Ag Sales Manual.
Generation 4 Display compatibility
This document lists all the compatible equipment approved with the software update 19-2 release, and is subject to change with newer software updates. To ensure complete and proper compatibility, the most current version of implement control unit software, Generation 4 Display software, or compatible farm management information software (FMIS) should be used. Non-current software versions will require an update before support can be provided. Unapproved software version configurations will not be supported.

The software update 19-2 release is only compatible with 4600 CommandCenter™ v2 processors. Software update 17-2 is the last release that was compatible with 4600 v1 processors.

Server serial numbers are as follows:
v1 = RWG prefix
v2 = PCG prefix
Specifications
Sorry, currently there are no specs but check back with us later.