John Deere 4240 Universal Display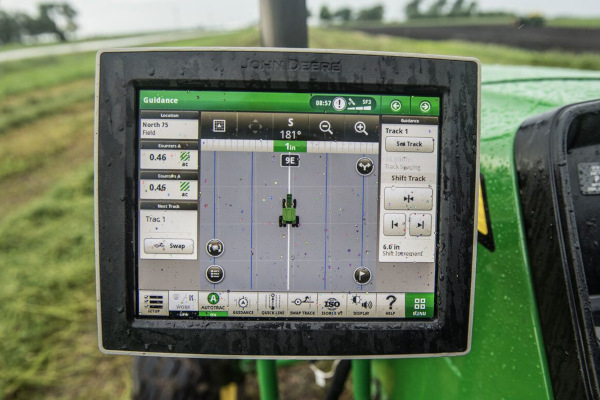 Double tap to zoom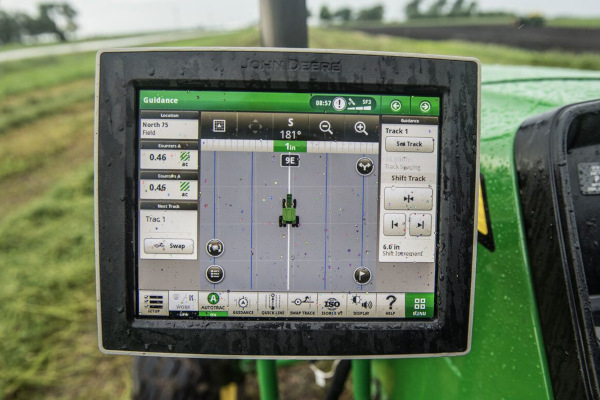 Features
Take advantage of the robust and easy-to-use 4240 Universal Display
Performance:
Enhanced data merging functionalities to increase on-board/off-board flexibility
Data capturing capabilities that precisely map and operate Section Control 
Precisely apply multiple products simultaneously with individual coverage maps and application points 
Uptime:
Setup and startup operations easily with improved display navigation
Ability to wirelessly deliver display subscriptions and software updates with the wireless USB adapter
Cost of operation:
Improved Gen 4 applications such as AutoTrac™ assisted steering system, Section Control, and documentation increase producer profitability all with a moveable display experience
HARDWARE
The 4240 Universal Display hardware consists of a 21.3-cm (8.4-in.) touchscreen display.
Precision Ag activations and subscriptions available
Producers purchasing a 4240 Universal Display have an abundance of choices when deciding which Precision Ag applications to use on their display. The 4240 Universal Display includes basic documentation with the display purchase and is priced with a permanent, non-transferable AutoTrac™ activation.
Some producers may want an implement-only display. They can purchase the display less AutoTrac activation.
Some producers may want to use the display as an automated guidance-only display. They can purchase the display with the default permanent, non-transferable AutoTrac activation.
Some producers may want to use the display for more advanced Precision Ag applications such a pulling a tow-behind sprayer. They should consider the 4240 Universal Display with the default permanent, non-transferable AutoTrac activation and add a 1-year 4240 Data Sync and Sectional Control subscription.
Other producers may want the functionality provided with Section Control and Data Sync but not need AutoTrac. They should consider the 4240 Universal Display less AutoTrac activation and add a 1-year 4240 Data Sync and Section Control subscription.
Regardless of the choice a producer makes during the initial purchase, a permanent, non-transferrable 4240 AutoTrac activation or a 4240 Data Sync and Section subscription can be added as a field-installed option. This approach allows producers to start their Precision Ag journey with a Gen 4 display and add the applications they want and need as they become more comfortable with John Deere Precision Ag Technology over time
Generation 4 Display compatibility
This document lists all the compatible equipment approved with the software update 19-2 release, and is subject to change with newer software updates. To ensure complete and proper compatibility, the most current version of implement control unit software, Generation 4 Display software, or compatible farm management information software (FMIS) should be used. Non-current software versions will require an update before support can be provided. Unapproved software version configurations will not be supported.

The software update 19-2 release is only compatible with 4600 CommandCenter™ v2 processors. Software update 17-2 is the last release that was compatible with 4600 v1 processors.

Server serial numbers are as follows:
v1 = RWG prefix
v2 = PCG prefix
Remote Display Access (RDA)
The ability to remotely view the machine's settings, performance, yield, acres, and other information is highly valuable when managing or supervising an operation. It is imperative that the operator's equipment keeps running productively and that the grower or dealer is enabled to provide remote support to improve the quality and efficiency of work while saving time and money. RDA enables an operator to get help with machine settings or identify a problem and receive assistance in navigating through the steps needed to resolve the issue.
Value in brief:
Improved confidence in precision farming applications for all operators
Increased productivity with quicker problem resolution
Improved service from John Deere dealer and support personnel
Increased profitability by keeping equipment moving
Reduced labor and travel costs
With the 19-1 software update, the Gen 4 displays no longer require the operator to accept for remote view
Dual-display connection capability
Dual-display connection allows both the GreenStar 3 2630 Display/4640, and 4240 Universal Display and Generation 4 CommandCenter Displays to be viewed during one RDA session. The user simply toggles between the tabs in the browser or in a mobile device. View exactly what the operator sees on the GreenStar 3 2630 Display, 4640 and 4240 Universal Display, and Generation 4 CommandCenter from almost any internet-connected device. RDA is available on both the 4600 and 4200/4100 CommandCenter Displays. RDA enables quick communication around settings or messages on the displays. This allows improved communication between the equipment operator in the field and an offsite farm manager or dealer to help with machine settings, quick remote training, support, or any other needs that may arise in the field.
RDA provides the following benefits to the users:
Performance
Remotely help or train operators with machine settings and precision farming applications to improve productivity and quality of work done.
Uptime
Increase productivity with quicker problem resolution
Improve remote support from John Deere dealers and support personnel to assist operators with machine set up and settings to ensure peak productivity
Cost of operation
Reduce labor and travel costs with improved remote support for quicker and accurate problem resolution
Increase profitability by ensuring optimized machine settings for maximum efficiency
Requirements:
Compatible displays:

John Deere 4640 or 4240 Universal Display with Ethernet cable
GreenStar 3 2630 Display with Ethernet cable
Generation 4 CommandCenter with Ethernet cable connected

RDA session is not compatible for viewing on Gen 4 Extended Monitor.

JDLink™ Connect or JDLink Access plus RDA subscription
Partner setup within Operations Center or JDLink web interface needs to be completed by both users to share information
An RDA session can be started from almost any internet-connected computer or mobile device, including MyOperations™ and JDLink mobile apps for iOS® and Android™ systems
Functionality:
Single-display view of compatible display in one machine
Dual-display view (ability to see both Gen 4 CommandCenter and GreenStar 3 2630 Display or 4640/4240 Universal Display on one machine) with ability to quickly switch views between the two displays
View multiple machines at once from a desktop or laptop computer
iOS is a trademark of Cisco Technology, Inc. used under license by Apple, Inc. Android is a trademark of Google LLC.
Reduce the risk of data loss by wirelessly sending and receiving data
Gen 4 applications and subscriptions allow data to be transferred from the display to the John Deere Operations Center for job reporting and analysis using Wireless Data Transfer (WDT) or Data Sync.
With WDT, you can manually send data to the John Deere Operations Center for review.
Data Sync is enabled with purchase of the Premium or Automation Activation/Subscription, automatically sending your data to the Operations Center every 30 seconds, avoiding the need for manually exporting the data.  
Wirelessly sending data helps you save time and money while increasing productivity. Wirelessly transfer setup, prescription, and documentation files securely between office, mobile devices, and 4640/4240 Universal Display or 4600/4200 CommandCenter™ Display, eliminating the need for USB transfer. This increases your uptime and productivity, reduces the risk of data loss, and enables easy data sharing and more timely decision making.

Through the John Deere Operations Center, you are in control and can easily share files with a John Deere dealer and other trusted advisers.

NOTE: For users in areas of poor cellular coverage, data is able to be exported using a USB flash drive.
Lockout equipment with security PIN code
Producers have asked for a way to better secure their John Deere devices from improper use and thefts. With the 19-1 software update, John Deere added an enhancement to the user interface of the Gen 4 4240 and 4640 Universal Displays.

With this solution, producers have the choice to enable the security PIN code feature and set up a unique four-digit PIN code to enable and unlock their device, similar to a mobile device. Enabling this code will allow only users with the defined PIN code to access the device when it powers on.

This feature has two levels of access that can be defined. An administrator PIN code must be defined to enable the feature and should be used by the farm manager. A second optional operator PIN code can be defined for usage by operators of the machine.
Increased connectivity with 4240 Universal Display with wireless USB adapters
The 4240 Universal Display is compatible with several wireless USB adapters so that data can more easily be transferred to John Deere Operations Center. Wireless USB adapter connectivity enables Data Sync (Premium 3.0 or higher subscription required) on a 4240 Universal Display in addition to software updates and available subscriptions.

The wireless USB adapters listed below are supported with the 4240 Universal Display. It should not be presumed that other wireless USB adapters are supported.

Before proceeding, make sure the display has been updated to software update 19-2 or newer.
Activate Gen 4 display software remotely
Over-the-air activations were enabled with the 18-1 software update to the Gen 4 displays. With that software update or newer, a John Deere dealer can send activations to a Gen 4 display without leaving the office. Over-the-air activations also eliminate the need to manually enter long activation codes like was done previously. This also eliminates multiple trips between the cab and the farm office to enter codes and verify completion.

NOTE: Over-the-air activations requires a current JDLink™ Connect subscription and Mobile Telematics Gateway (MTG). Planter and platform activations and subscriptions cannot be updated over-the-air.
Specifications
Sorry, currently there are no specs but check back with us later.