John Deere Field Connect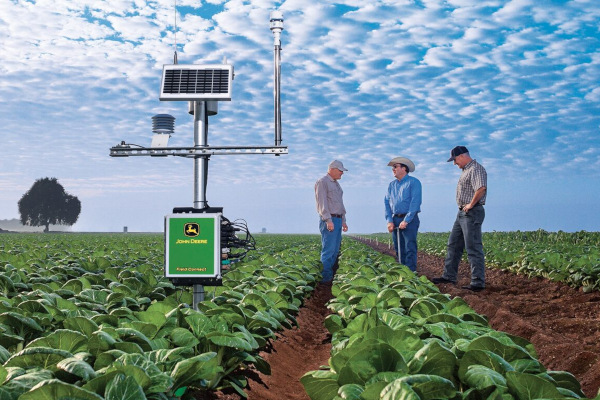 Double tap to zoom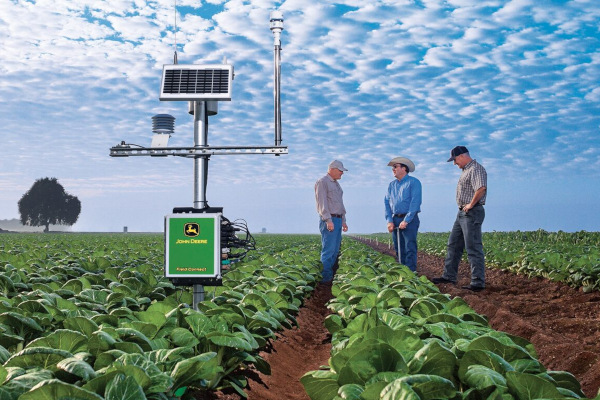 Features
Reduce input costs through water management
Energy costs are rising, water conservation practices including allocations are becoming more prevalent, and chemical application continues to be a significant input cost to a producer's operations. John Deere Field Connect™ system can provide producers the information needed to ensure that irrigation is used only when it is required, thereby reducing the tendency to overwater. Running an irrigation system only when needed will save on fuel costs and reduce the risk of washing chemical applications away from where the crop can use it. In areas with water restrictions, saving water today could make the difference between having a crop next season and not.
Improve yield and crop quality through data-driven decision making
A producer's yields are highly dependent on the inputs provided to the crop. Just as important is the time at which those inputs are provided. For corn, this means ensuring moisture is available during the pollination stage. Inadequate moisture during this key time can cause significantly lower yields. However, having too much moisture can be damaging as well.
The quality of a crop can also be affected if correct moisture levels are not maintained during fruit fill. In processing tomatoes, moisture levels are lowered in the final weeks of the season. This ensures that tomatoes are produced that have appropriate brix levels and high solids/sugars, to bring the highest possible price for the producer.
John Deere Field Connect provides detailed soil moisture levels throughout the growing season. When combined with optional environmental sensors, producers have a wealth of site-specific information at their fingertips. This ability to monitor moisture levels and key environmental conditions means decisions can be made around those key crop stages, allowing producers to make informed moisture management decisions.
Meets the needs of a variety of operations
With so many options available to producers, there is endless variation in the types of field configurations that they can use. John Deere Field Connect™ system can be used in irrigated fields utilizing drip irrigation, center pivot systems, furrow irrigation, and a host of others, helping the producer to schedule the appropriate irrigation.
Tiled field situations provide another opportunity for utilizing the system. While moisture may be plentiful, a producer's ability to control the movement of moisture away from the field can be critical. In these fields, John Deere Field Connect can be used to determine when to open and close tile gates to ensure moisture levels are optimized.
Moisture information can also be important in chemical applications as well, enabling producers to make the most of their input, by ensuring soil moisture content and environmental conditions are appropriate for the application. This is true whether or not the field has systems in place to control moisture levels.
Quickly access data from mobile phones
Accessing John Deere Field Connect™ has never been easier. All of the John Deere Field Connect data can be accessed from a mobile phone. Get the latest readings for soil moisture levels and attached environmental sensors. Scroll easily from sum graph to line graph and add notes while viewing up to 30 days of data. Currently, the app works with smartphones. Tablets will continue to utilize the full web version to allow admin functionality.
FEATURES
Compatible with iOS® and Android™ smartphones
Optimized for mobile phones
Credentials are stored for one year after initial log in, allowing quick and easy access to data
Available on the App Store® on iTunes® systems, or from supported Web browsers on a mobile device
Improved user experience
Access key web application features
Ability to monitor soil moisture levels with sum and line graphs
Quickly view the most recent environmental sensor measurements
Hardware status view provides the user with the most recent information regarding the status of equipment in the field
Quickly add detailed notes on the go pertaining to a management zone
App Store and iTunes are trademarks of Apple Inc. IOS is a trademark of Cisco Technology, Inc. used under license by Apple Inc. Android is a trademark of Google LLC.
Generation 4 Display compatibility
This document lists all the compatible equipment approved with the software update 19-2 release, and is subject to change with newer software updates. To ensure complete and proper compatibility, the most current version of implement control unit software, Generation 4 Display software, or compatible farm management information software (FMIS) should be used. Non-current software versions will require an update before support can be provided. Unapproved software version configurations will not be supported.

The software update 19-2 release is only compatible with 4600 CommandCenter™ v2 processors. Software update 17-2 is the last release that was compatible with 4600 v1 processors.

Server serial numbers are as follows:
v1 = RWG prefix
v2 = PCG prefix
Specifications
Sorry, currently there are no specs but check back with us later.