John Deere Operations Center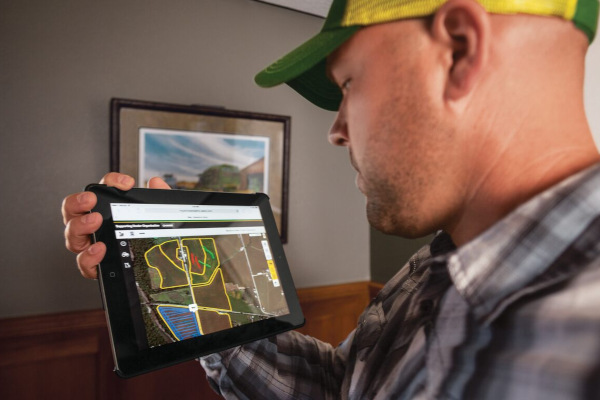 Double tap to zoom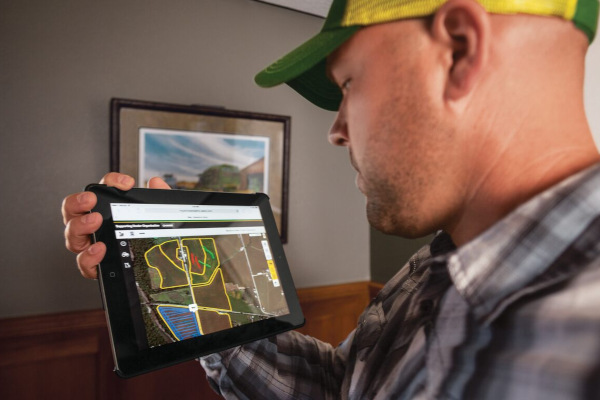 Features
Enable Precision Agriculture with John Deere Operations Center
The Operations Center allows you access to more information to make better decisions to improve your farming operation. Better decisions can lead to higher yields, reduced costs, and the ability to farm more acres in less time.
The Operations Center is an online farm management system that enables access to farm information anytime, anywhere. Tools in the Operations Center provide you and your partners with the ability to analyze, edit, and make collaborative decisions from the same set of information to get higher yields and reduce input costs. These tools help you farm more efficiently by creating plans and directing in-field work, allowing you to farm more acres in less time. Combined with its complimentary suite of mobile apps and the power of live connections to the machine through JDLink™, the Operations Center enables you to manage your operation more efficiently, do a better job on every pass, reduce costs, and improve profitability.
Farm more acres in less time
Managing field work can be chaotic, inefficient, and cause a manager to be on the phone for hours per day trying to coordinate work, monitor progress, and make sure the job gets done right. It takes numerous meetings, phone calls, and even field visits, which are all prone to miscommunication and costly errors and delays. John Deere Operations Center is a cloud-based system used for insights and collaboration. Access your field and machine information and share it with trusted partners via the web from any computer or device – no desktop software or subscription is required. Keep up on what's happening with equipment and operators at any given time with Operations Center features such as Location History, Remote Display Access (RDA), and the MyOperations™ partner mobile application. You can see what's going on anywhere, anytime you choose.
Remotely view in-cab displays in order to:

Minimize time-consuming field visits
Reduce costly errors with equipment settings
Resolve problems more quickly

Save time calling equipment operators to ask for their locations by viewing them on a map
Quickly identify errors and make corrections
Monitor field work
Learn from recent and past field operations
Coach operators and adjust machines for improved performance
View flags created by operators to fix problems
Send reports to partners or landlords quickly from your phone
Quickly view variety performance
Get higher yields
Factors like variety selection and input variables make all the difference in a successful growing season. Capturing field data provides a key advantage for making better crop and input decisions. John Deere Operations Center provides tools so you can evaluate the data, ensure it's accurate, and act on it. John Deere Operations Center tools can make data interpretation easier. With these tools, understand the factors influencing yield and be ready to act on those insights in the field.
Visual mapping lets you analyze, compare, and understand factors influencing yield.
Editing tools automatically and manually adjust documented date to eliminate errors made in the cab.
Summarize the details of an operation in a single report for further discussion.
Develop an understanding of trends in performance to gain better insights.
Reduce costs
Growers rely on many people inside and outside of their organization such as staff, John Deere dealers, agronomists, landlords, and crop input manufacturers to help them make decisions about their crop inputs, machines, and more. Operations Center makes the process of sharing machine and agronomic data easy and customizable. In Operations Center, growers can establish a sharing relationship with key people and electronically share their information easily. This allows them to better control and secure their data while making it available to those who can help them gain insights that increase productivity and reduce costs.
Maintain control of data visible to the team and partners
Decrease time it takes to transfer and share data with agronomists, dealers, and service providers 
Receive support from John Deere dealers and partners
Simplify logistics and reduce unnecessary communication
Multiple levels of access to customize information sharing
Managing inputs to control costs while creating the most yield potential is critical to your success. Monitor input performance and control costs such as varying seed rate and/or fertilizer to determine maximum benefit through Operations Center analysis tools.

For more information on data privacy, see: www.johndeere.com/trust.
Do more from Operations Center with connected software companies
Growers do not farm alone. Collaboration with retailers, input providers, software companies, equipment dealers and many others is necessary to make timelier and more accurate decisions. The Operations Center is an open platform that enables producers to connect with their preferred partners and software tools. For more information about connected software tools, visit the More Tools page within Operations Center, or go to the direct link at: https://MoreTools.Deere.com.
Specifications
Sorry, currently there are no specs but check back with us later.