John Deere 530D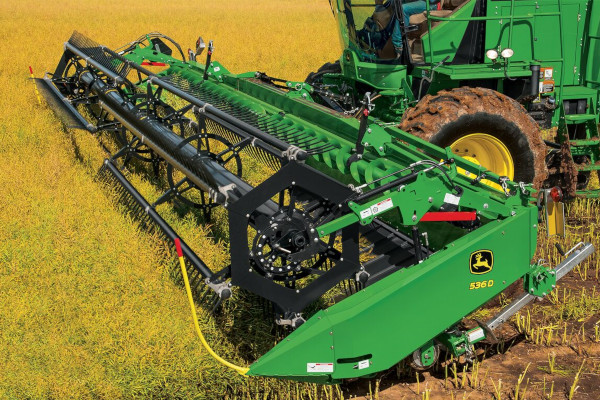 Double tap to zoom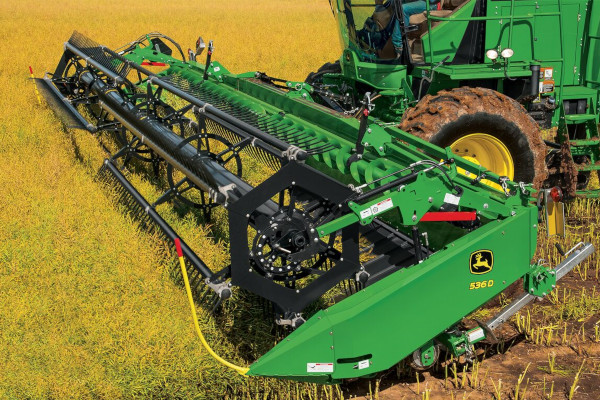 Features
Interchangeable with John Deere rotary platforms
Higher productivity with center-driven belts
Strong, positive-feeding reel handles all crop conditions
John Deere parts and service support provide uptime for a timely harvest
Draper hydraulic pump control logic delivers constant header speed
Hydraulic deck shift (double swath package)
Specifications
Key Specs
Cutterbar - Type
SCH® Easy Cut with roller guides, spring steep guards, and bolted sections
Standard: single knife
Optional: dual knife
Cut width (length)
9.1 m
30 ft
Reel type
Hydraulic
Fingers
Plastic
Belt width
V-guided draper belt: 106.7 cm
42 in.
Transport length, hitch extended
10.5 m
34.6 ft
Cutterbar
Type
SCH® Easy Cut with roller guides, spring steep guards, and bolted sections
Standard: single knife
Optional: dual knife
Cut width (length)
9.1 m
30 ft
Knife drive
Two hydraulic motors and two knife drives
Knife speed
1,100 to 1,440 spm
Stroke length
84 mm
3.3 in.
Cutterbar tilt
Hydraulic, adjustable from cab
Reel
Reel type
Hydraulic
Number of bats
Six
Fingers
Plastic
Diameter
1118 mm
44 in.
Height control
Hydraulic, adjustable from cab
Speed control
Hydro handle, in cab
Reel lift
Hydraulic, adjustable from cab
Reel fore and aft
Hydraulic, adjustable from cab
Draper and decks
Belt width
V-guided draper belt: 106.7 cm
42 in.
Delivery opening width
Delivery, double swath opening: 137.2 cm
54 in.
Delivery, single swath opening: 203.2 cm
80 in.
Delivery opening height
205.7 cm
81 in.
Draper drive
Two hydraulic motors
Operating speed
0 to 232 m/min
0 to 760 fpm
Speed control
Adjustable in windrower cab
Remote canvas speed control
Standard
Deck tilt
Standard
Deck extensions
Optional, dealer-installed deck extensions: 35.6 cm
14 in.
| | |
| --- | --- |
| Type | Optional: factory-installed cross-pea auger |
Dimensions
Operating width (field)
9.1 m
30 ft
Transport width (reel fully retracted)
2.6 m
8.5 ft
Transport height
2.44 m
8 ft
Transport length, hitch extended
10.5 m
34.6 ft
Weight
Approximate weight (base platform without reel)
1232 kg
3513 lb
Approximate weight (base platform with reel)
2710 kg
5975 lb
Gauge wheels and transportation
| | |
| --- | --- |
| Gauge wheels | Adjustable castoring gauge wheel optional |
| Integrated slow speed transport system | Self-contained transport, including hitch, jack and axle, is conveniently stored on the swather table |